The Hong Kong Jockey Club reports that their Stewards had previously been notified by the National Horseracing Authority of Southern Africa that Club Jockey Lyle Hewitson was cleared to commence riding in Hong Kong, pending the Inquiry Review Board deciding upon an outstanding Inquiry relating to his ride on Believethisbeauty at Fairview Racecourse on 12 April 2019.
Following his ride on Believethisbeauty which finished 4th in the subject race, Jockey Hewitson was found guilty of having failed to ride his mount out to the end of the race to the satisfaction of the Racing Stewards and was suspended for a period to cover 14 calendar days.
Jockey Hewitson was subsequently permitted to continue riding on a stay of proceedings after lodging an appeal against the Stewards' findings. The matter was determined by the Inquiry Review Board on Friday 6 September 2019.
The Stewards have been advised that the Inquiry Review Board confirmed the original finding and penalty of 14 calendar days and has formally requested that this penalty commence after Jockey Hewitson's fulfils his race riding engagements at the Sha Tin race meeting on Sunday 8 September 2019.
Accordingly, Jockey Hewitson's period of suspension will commence on Monday 9 September 2019 and will expire on Monday 23 September 2019, on which day he may resume race riding. During that time there are 4 racemeetings schedule to be conducted in Hong Kong.
Hong Kong Jockey Club:
Deferred suspension
A Domeyer
– Careless riding Suspension commences on 15/09/2019, may resume riding on 26/09/2019
B Shinn
– Careless riding Suspension commences on 18/09/2019, may resume riding on 26/09/2019
L Hewitson
– Suspension incurred in South Africa Suspension commences on 09/09/2019, may resume riding on 23/09/2019
M F Poon
– Careless riding Suspension commences on 15/09/2019, may resume riding on 19/09/2019
M L Yeung
– Careless riding Suspension commences on 25/09/2019, may resume riding on 02/10/2019
‹ Previous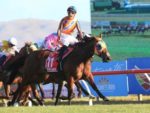 Melody Belle Calls The Tune