A nasty accident involving Bayview Express (Ashton Arries) and Twice Golden (Athandiwe Mgudlwa) in the third race at Hollywoodbets Scottsville on Wednesday resulted in both jockeys being rushed to hospital for observation.
"Both jockeys are stable but have been stood down and rushed to hospital," confirmed Duty Officer Charles Bawden to Tabnews.
"Arries said he has issues with the area around his collarbone and Mgudlwa said he has issues with his knee. That is all I know at the moment."
Mgudlwa's mount tripped at about the 800m marker, dislodging his rider, who rolled on the ground and looked certain to be run over by Bayview Express.
However, the latter jumped over the injured jockey, landing awkwardly and falling to the ground along with his rider Arries.
This caused eleven of the fifteen jockeys to restrain their mounts, which essentially meant this turned into a four-horse race.
If anything, had Bayview Express not jumped over Mgudlwa, one can't help but believe the jockey would have suffered way more injuries.
"Fortunately, the horses are also fine," assured Bawden.
"The accident has forced us to have an inspection of the track. I'm on the track with a few jockeys and trainers as we speak. We simply want to ensure that the surface is safe for racing, specifically around the bend," he added.
Ed – we have asked the NHA and Gold Circle for comment on the pre-meeting track inspections after a complaint from a trainer
‹ Previous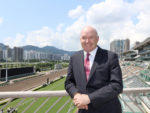 Aussie Champ Set For Hong Kong Return