Former 61 Mechanised Battalion  Gunner and long-suffering owner Rod Mattheyse pulled rank at Kenilworth on Saturday when he shouted his What A Winter gelding Three Two Charlie  home from the 600m marker, before the 'gross' galloper swept forward late to win the R150 000 Listed Sophomore Sprint.
It was something of a pleasing plan come together for Mattheyse, who bred the 3yo in partnership with Beaumont Stud's Anton Shepherd and others.
"I didn't feel we were getting enough money for him when he went through the ring at the Cape Premier Yearling Sale – so I bought him," said a broad-smiling Mattheyse, who confirmed that he had named the yearling – built like a tank – after his military unit.
Trainer Candice Bass-Robinson described Three Two Charlie as a horse blessed with a super temperament – but quite a gross specimen – and that's just why she could afford to give him a run ten days earlier.
Gross in equine terminology indicates that he is a big strong upstanding heavy horse – and can takes lots of work.
Ridgemont-Highlands jockey Greg Cheyne rode a confident race – on a horse he admitted he knew little about.
"He is an unassuming, lovely, big gross fellow. He was travelling well early and we got a bit cramped. So I gave him a chance. Our stablemate Constable pulled us through late. He should go a mile,  I think," said the recently crowned multiple East Cape Champion rider.
After King Of Gems, Finding Camelot and Captain Tatters had looked to attack going into the final stages, Three Two Charlie (6-1) scythed through the traffic from some way off the gallop and stayed on best to beat Captain Tatters by 1,50 lengths in a time of 75,07 secs.
King Of Gems was a neck back in third, with the winner's stablemate Constable showing he needed it in fourth.
Djokovic was a further 1,50 lengths back in fifth.
The rest were well beaten.
A R250 000 Cape Premier Yearling Sale graduate, Three Two Charlie has won 2 races with 3 places from 5 starts and stakes of R188 350.
Bred by Beaumont Stud, Three Two Charlie is a gelded son of triple Equus Champion What A Winter (Western Winter) out of the four-time winner, Mairingi Bay (Joshua Dancer).
It's amazing how some glorious sunshine, a smart horse and a smiling owner can make us forget the racing politics – for a while, anyway!
Don't forget about the meeting at Kenilworth on Monday at 18h00 – for all those interested in the future of Cape racing!
Stipes report excerpt:
THE STARTER REPORTED:
DJOCKOVIC (O Noach) jumped inwards and brushed CAPTAIN TATTERS (R Fourie), thereafter DJOCKOVIC (O Noach) was slow losing one length, and was slow into stride.
KING OF GEMS (D Dillon) and CALL ME AL (A Andrews) were slow into stride.
THE STIPENDIARY STEWARDS REPORTED: (CvA)
a) Jockey M J Byleveld (GROUND CONTROL) reported that this gelding had choked up in running. The Veterinary Surgeon was requested to examine the gelding on its return to the unsaddling enclosure and submit a report.
b) FINDING CAMELOT (C Orffer) was hanging out throughout.
c) At the 900m in a tightly bunched field HARDFALLINGRAIN (M Winnaar) raced onto the heels of WARRIOR TIGER (G Behr) and had to be checked and shifted in sharply. This resulted in DJOCKOVIC (O Noach), which was following, having to steady and KING OF GEMS (D Dillon) being carried inwards.
c) THREE TWO CHARLIE (G Cheyne), the winner, was selected for the taking of specimens for analysis. Trainer Mrs C Bass-Robinson was advised. (TJ)
‹ Previous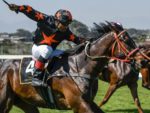 Wrensch Gets His Icebreaker