The extraordinary life story of Lomitas, one of the best German horses of the modern era, is set to be turned into a feature film.
Shooting for Lomitas, which is being produced by Stefan Raiser of Dreamtool Entertainment in co-operation with Gestut Fahrhof president Andreas Jacobs, will begin in 2021.
Dreamtool Entertainment is part of the Beta Group, which has co-produced internationally famed German language films such as Downfall and The Lives Of Others.
The history of Lomitas certainly merits being brought to the big screen; in fact at times it was stranger than fiction.
For South African racing fans, he is the sire of multiple champion Maine Chance Farms sire, Silvano.
The son of Niniski, who was owned and bred by Fahrhof, had such a strong aversion to starting gates that he reared and threw himself on the ground before the German 2,000 Guineas of 1991 and it eventually led to a ban from racing.
Stud owner Walther Jacobs called on legendary US 'horse whisperer' Monty Roberts who worked closely with Lomitas to successfully cure him of his fear, and the horse went on to finish second in the German Derby and win three Group 1 races in impressive fashion at three, when he was crowned Germany's horse of the year.
More drama was to come when Jacobs was the subject of a blackmail campaign, the perpetrator threatening to harm Lomitas unless their demands were met, and indeed the prized colt was poisoned before running down the field at Dusseldorf in the summer of 1992.
Lomitas was subsequently whisked out of Germany in a covert operation and installed at Susan Piggott's yard in Newmarket under an assumed name before he was transferred to America, where he was placed in Grade 2 events on turf.
Retired to Fahrhof at the end of his racing career, he sired several top-class performers, most notably the brilliant Prix de l'Arc de Triomphe and King George VI and Queen Elizabeth Stakes heroine Danedream.
A 20-minute documentary about Lomitas was produced by Fahrhof's Daniel Kruger and Florian Figge to celebrate Roberts' 80th birthday and visit to Germany in 2015.
The short film 'Lomitas – His Story' was shared on social media and attracted a cult following, being shared many times by racing fans. It won the award for best international documentary at the Equus Film Festival in New York in 2017.
The success of the short film inspired Kruger and Figge, with the support of Andreas Jacobs, to produce a longer piece which will also look at the rich history of the Jacobs family, the dynasty behind one of continental Europe's biggest-selling coffee brands.
Andreas Jacobs, grandson of Walther, founder of Jacobs coffee and Gestut Fahrhof, said: "My grandfather had the passion and patience to create one of the largest corporate empires in Europe from nothing, and at the same time to fundamentally reshape the sport of horse racing; a farmer's son who was laughed at when he wanted to build a stud farm on a sandy field near Bremen to breed thoroughbreds.
"The producer's vision of telling this story grabbed me immediately."
www.racingpost.com
‹ Previous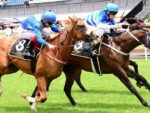 Fitness Favours Puget Sound Today