The Hong Kong Jockey Club advised over the weekend that Lyle Hewitson's suspension of 14 days incurred at Fairview would come into effect on Monday 9 September.
The National Horseracing Authority confirms the finalisation of the following matter as set out below:
At an Inquiry held in Port Elizabeth on 19 April 2019, Jockey Lyle Hewitson was charged with a contravention of Rule 62.2.3, in that on 12 April 2019 at Fairview Racecourse, he failed to ride BELIEVETHISBEAUTY out to the end of Race 8, thereby prejudicing his chances of obtaining 3rd position.
Jockey Hewitson pleaded guilty to the charge.
The Inquiry Board found Jockey Hewitson guilty and imposed a penalty of a suspension from riding in races for a period of fourteen (14) days.
Jockey Hewitson appealed against the penalty and then withdrew his Appeal on 31 July 2019.  A substantial part of his deposit was forfeited.
As prescribed by the Rules, the matter then had to be considered by the Inquiry Review Board, which confirmed the finding and penalty at its meeting on 6 September 2019.
The Hong Kong Jockey Club Stewards were previously notified by The National Horseracing Authority that Jockey Lyle Hewitson was only cleared to commence riding in Hong Kong, pending the Inquiry Review Board deciding upon this outstanding Inquiry.
On Friday 6 September 2019, they were advised that the original finding and penalty of a 14 day suspension was confirmed.
The NHA formally requested that this penalty commence after Jockey Hewitson fulfilled his race riding engagements at the Sha Tin race meeting on Sunday 8 September 2019.
Hong Kong is a Specified Racing Authority in terms of Rule 91.1.2 and as such, the suspension will be reciprocated by the Hong Kong Jockey Club.
Accordingly, Jockey Hewitson's 14 day suspension commenced on Monday 9 September 2019 and will expire on Monday 23 September 2019, on which day he may resume race riding.
‹ Previous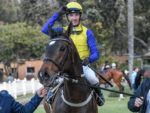 Kennedy & Robinson Make Merry