The Mauritius Turf Club's Stipendiary Stewards take a fair amount of flak here for apparently being overzealous and a bit over the top, at times.
But reading their reports, one gets a sense of detail and being on top of things.
Changes in tactics are questioned.
When a saddle slips  – questions are asked.
And the detail is there.
A few excerpts from the Champ de Mars stipes report on Sunday:
On inquiry, trainer A.Sewdyal (Unbelievable Lad) was severely reprimanded and told that in future, he is to advise the Racing Stewards of any change in tactics for any of his runners.
Cash Call- When questioned, jockey Nunes explained that after jumping fairly well, he asked his mount for an effort in the early stages and managed to secure a position one-off the fence, behind the leader. He also said that contrary to his last start, Cash Call was not travelling well today, resulting in him having to encourage his mount down the back straight to keep its position. He also said that passing the 600 metres, when Student Grant was taken out from behind Flying Arrow, his mount shied away and shifted out, and from then onwards, dropped the bit and raced green, with him having to urge it forward to keep its position. He also stated that leaving the 450 metres, Cash Call commenced to hang out under pressure and hung in in the home straight, becoming difficult to assist, and although it made ground over the concluding stages, it did not quicken as expected. He was of the opinion that this gelding will be better to softer conditions and over a longer distance.
From The Ashes-The saddle slipped forward leaving the 1400 metres, placing jockey Horil at a disadvantage and him unable to assist his mount. From leaving the 450 metres, which could not be assisted, commenced to give ground. When questioned, jockey Horil explained that From The Ashes was sweating profusely behind the gates, but that the saddle was correctly placed. He added that shortly after the start, when settling his mount, he added that the saddle moved forward, resulting in him becoming awkwardly placed on his mount. The Racing Stewards advised jockey Horil to ensure that in future, he checks his equipment at the start.
Shouldn't we be demanding the same standards?
Just a thought.
‹ Previous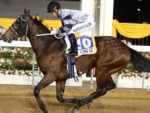 Ice Off To Australia