The NHRA needs to assist trainers with owners who fail to pay. So suggests trainer Leon Eramus Jnr who was recently warned off after it was found he failed to provide a reasonable level of care and treatment to a number of his horses.
Erasmus, who took over the yard upon the tragic death of his Dad Leon who had been a trainer for 28 years. Leon died in a car accident in June 2018.

Erasmus Jnr writes on the Sporting Post comments platform:
"You all say it's a disgrace, but not one of you stopped and asked why, what happened. Then I would tell you. I started off with no funds or financial backup, and I did everything I could possibly do to keep the horses going. The disgrace is the owners who know they have a responsibility to pay their monthly keep but never paid. In one year I'm owed over R250 000 from owners – but the horses must eat and work everyday.
And yes, I couldn't give the horses everything they need but I did the best I could with the little funds I did get in."
I'm getting all the blame and it's fine – I will take it, but just one thing. When will the NHRA help the trainers by doing something about owners who don't pay? I asked for help from them and still waiting for a response."
The Sporting Post has referred the matter to the NHRA for a comment,
‹ Previous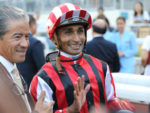 Karis Grabs A Fiver!