The move to reduce the stakes burden on Phumelela following ongoing news of financial pressure on the company has started to take effect.
In a letter issued to trainers, Phumelela advise that in consultation with the Racing Association a decision has been taken to reduce the number of races scheduled midweek on both the Highveld and in Kimberley from nine to eight with effect from 1 October 2019.

This is said to be part of an initiative to mitigate the imminent re-alignment of stakes that will be announced in due course in terms of the stakes agreement formula.
Midweek low grade 9th races added to the Highveld programmes will be cancelled from 1 October and Kimberley's current nine-race programmes will be cut to eight races from the same date.
Due to the financial pressures, Phumelela state that they will generally not be splitting races in the foreseeable future – and then only in exceptionable circumstances.
While the provisional Highveld programme published for the three month period October to December 2019 does not include the minor race stakes at this stage, for the month of October these will be set at current winter stakes levels, whereafter the new minor race stakes levels will be published from November.
‹ Previous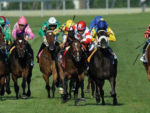 Lack Of Commitment To Racing?