The second of the two Hartley (SA) Pty Ltd dispersal sales is incorporated in the Randjesfontein September Sale to be held under the auspices of Bloodstock SA at the Randjesfontein Clubhouse today at 11h00.
This sale comprises Horses in Training and Unraced Two Year Olds – and includes lots offered by Al Adiyaat South Africa (Pty) Ltd, Shadwell South Africa and Sean Tarry Racing.
The Hartley Broodmares and Yearlings Sale held on Wednesday 28 August at the Four Cousins Restaurant in Robertson produced an aggregate of R449 000 for the 28 lots sold, at an average of R16 036.
The Trippi mare Trippissa (#18) and the Vercingetorix yearling filly ex Prairy Star (#28) were joint topsellers at R70 000 apiece.
For any other information regarding individual lots, please contact Peter Gibson on:
M – 083 406 4881 / E – [email protected]
For information on the auction, please contact Michael Holmes:
M – 082 552 6524 / E – [email protected]
‹ Previous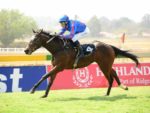 Hartley Lots – The Pen Pics