On this Heritage Day I am reminded of the good old days.
To celebrate our horsey heritage, I thought an extract from the South African Racehorse would remind us of the Race Figure system, writes Jay August in the SP Mailbag
This excerpt from the November/December 1983 edition:
"The mini Transvaal feature-race season started with the R100000 Germiston November Handicap (Gr III) at Gosforth Park on November 5, and Wolf Power broke the 94 sec barrier over 1600m for the first time in national racing. The publication of weights for the race resulted in waves of criticism breaking over Gosforth Park handicapper Geoff Mollett.
It was a forgone conclusion that Wolf Power, undisputedly several lengths superior to any in the country over 1600m, would be allotted top weight.
However, when the weights were announced it was eight-year-old Denim Dandy, winner of 12 races and R92885 in stakes, who had top allotment of 58.5kg and Wolf Power, winner of 13 races for stakes of R434775, had 57.5kg.
The handicapper was not entirely to blame for a race advertised as a handicap being transformed into a benefit for Wolf Power. All handicappers in South Africa must work within the framework of the race-figure system. This dictates that horses be handicapped on the basis of about six race-figure points – or 3kg for each win – rather than a handicapper's assessment of their relative merits.
This has resulted in handicappers becoming no more than race-figure adjusters and, as things stand, a computer adequately programmed could probably do the job more efficiently.
Handicappers are also bound by a decision made several years ago that horses are not penalised for wins in weight-for-age races.
This ruling makes it possible for a winner of six races to have to concede weight to a 12-time winner, who has gained most of his victories in weight-for-age events, thus defeating the object of a handicap, which is to give every horse an equal chance of winning."
It seems very little ever changes in South Africa. Tinkering with handicapping systems seems to be the "rule".
Happy Heritage Day!
‹ Previous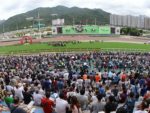 Betfair Drops Out Of Hong Kong