Much is being said and written these days about the trouble we're in. Mostly by taker-outers. Not by putter-inners – the punters, who make the world go round.
The apparent trouble is that there's not enough money to satisfy the needs of the taker-outers.
The simple answer is of course that the putter-inners need to supply more.
The key to that is Turnover. Every single bet generates funds for the taker-outers.
So how do you increase Turnover?
Easy. You make it easier to win.
At the beginning of each raceday there must be races where it's easy to find winners.
More winning bets increases the churn for the day.
Nothing worse than longshots at the start of day, to empty the pockets of many.
Then there's the Pick Six and Jackpot. Without couplings just a stupid bet.
It is not just that these bets tie up money that could be turned over instead. No couplings makes things more difficult.
Couplings will give more winners, put more money back in wallets to be turned over.
Of course, the number of handicaps must be restricted. Too hard to win. More plated races, with short-priced favourites who steam home.
Then there's the other way. Create more putter-inners!
Anyone ever thought of how the French started their climb to the top many decades ago?
Le Tierce! One simple and easy to explain bet, the trifecta, and promote the hell out of it to the general public.
It's relatively easy to win (but not always!), it provides excitement, and it's a once-a-week fix. Focus!
The Tote might even do a deal with the bookies to place the open bets from this National Trifecta with the Tote – as the bookies special contribution to the whole instead of the hole.
Beats moaning minnies, for sure!
What are we waiting for?
‹ Previous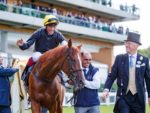 Rain Falls On Champions