Brett Crawford marked his 19 years of training horses with the  milestone of his 1000th winner at Durbanville on Saturday, courtesy of the Dynasty colt, Bag Of Tricks.
Crawford trains the grey for his staunch patrons Ridgemont and the Kieswetter family have struck a rich vein of form in recent weeks, topping the local owner log.
But Bag Of Trick's victory was not a velvet smooth pop the champagne moment! The Highlands bred 3yo was not the easiest of rides and Corne Orffer earned his commission the hard way – and picked up an unwanted holiday in the process.
Bag Of Tricks had it all to do inside the final 200m but plugged on to gain the advantage – a neck separated the top four past the post.
The rider of the runner-up Brother Louis wasn't  happy though.
The Stipes reported that approaching the 150m SNOWY MOUNTAIN (R Fourie) lost position when forced to ease off the heels of BAG OF TRICKS (C Orffer) which shifted outwards.
Jockey C Orffer, the rider of BAG OF TRICKS, was charged with a contravention of Rule 62.2.7 in that he failed to ensure that he did not cause interference to SNOWY MOUNTAIN (R Fourie) at the 150m.
Jockey Orffer signed an Admission of Guilt and was suspended from riding for 7 days. Dates 16/10/2019 to 22/10/2019 inclusive.
Leaving the 100m BROTHER LOUIS (D Dillon) rolled away slightly from BAG OF TRICKS (C Orffer).
An objection was lodged by Jockey D Dillon, the rider of the 2nd placed horse BROTHER LOUIS against the winner BAG OF TRICKS on the grounds of intimidation and interference in the latter stages.
After reviewing video from various angles and hearing the evidence put forward by the connections of both horses, the board were of the opinion that BROTHER LOUIS (D Dillon) would not have beaten BAG OF TRICKS (C Orffer). Therefore the objection was overruled. The deposit was refunded.
So the Stipes didn't spoilt the party and all's well that ends well! Crawford's 1000th winner came up at a 14,28% win strike-rate.
The Zimbabwean born horseman did his apprenticeship with Mike de Kock, Eric Sands and Dennis Drier before branching on his own. He worked for Sabine Plattner before opening his licence in 2009.
His two other winners on Saturday were  the highly progressive Jackson filly Pretty Young Thing who signalled herself a contender for Classic glory this summer.
A race earlier, Kilindini had opened Crawford's account with a fluent win in the Maiden 1400m.
‹ Previous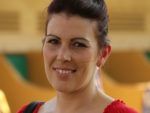 Mary Looks The Beaut