The Cape Yearling Sales race, a restricted feature for graduates of the 2020 Cape Yearling Sale to be held at Mistico in February next year, will be scheduled on the prestigious Cape Derby Day in February 2021.
The richest race ever staged in South Africa in its early years, the premier classic we know today as the Gr1 Cape Derby was first run as the Western Province Derby in 1925 and was renamed the Cape of Good Hope Derby in 1946.
The 1947 renewal carried the highest stake of any local race ever at the time and was a momentous occasion. King George and the royal entourage attended the racemeeting and presented the King's Cup to the winner Menlo, trained by Syd Garrett and ridden to victory by the legendary Stanley Amos.
In the modern era, the race has produced a host of Met and July winners, as well as Equus Champions. It is now run as a fitting climax to the Cape Summer Of Champions and brings the curtain down on the internationally renowned festival of racing in February.

Announcing the breaking news of the Cape's newest sales race and its prime slot on Derby day, Bloodstock South Africa CEO Michael Holmes said that he was thrilled to offer buyers at the Cape Yearling Sale a genuine quality incentive to support the value-for-money regional sale.
"The Cape Yearling Sale has a proud history of producing outstanding performers. Kenilworth Racing's accommodating gesture, made in the best interests of owners and breeders, to afford us the slot on a prestigious high-profile raceday on the Cape Summer Season calendar, is highly appreciated," said Holmes.
Drakenstein stallion Gold Standard and the Gr1 Daily News 2000 winner and 2019 Melbourne Cup candidate Surcharge, are just two big names to have gone through the ring at this sale.
Kenilworth Racing Director Jonathan Snaith, who was a key player in the finalisation of the agreement, echoed Michael Holmes' sentiments and said that the obvious spin-offs for racing in the region, as well as for all related stakeholders, was key to the success of an industry that boasted a long history in the region.
"Kenilworth Racing are privileged to partner with Bloodstock South Africa and to make the platform of one of the great highlights of our premier season available. Owners and the punting public are the lifeblood of this great game and as long as we are creating the environment for developing new age champions and supporters, we are doing what is best for racing," he said
The Cape Yearling Sale will be held on 28 February 2020 at the Mistico Equestrian Centre in Paarl.
All enquiries may be directed to Ashley de Klerk on Tel 031 – 303 1017 or via email on [email protected]
‹ Previous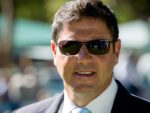 Feelin' Groovy