Jockey Donavan Mansour was airlifted to hospital on Wednesday, following an incident near the starting gates in race two at Te Aroha.
The 34-year-old was aboard first-starter, Lets Roc, for trainer Karen Fursdon, when the mare reared and flipped near the starting stalls.
New Zealand racing media report that Mansour has made a good impression since relocating from South Africa and has ridden 11 winners this season, on the back of 29 wins last season.
He also rode Vigor Winner to win the Gr3 Cambridge Breeders' Stakes and Helena Baby to win the Listed Opunake Cup.
The Sporting Post has learnt that he is being operated on for a fractured pelvis.
‹ Previous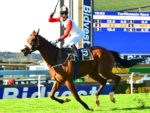 Shock: Bill Out Of Charity Mile