Leading owner and breeder Fred Crabbia has been a major supporter of South African horseracing for over forty years. To say that he is disenchanted with the current stakes cuts and state of the game, is putting it mildly.
The successful businessman started out racing horses with Armando Freddi at Newmarket in 1975 and has enjoyed success locally and internationally.
Despite many local graded winners, he is probably internationally best known as the owner of dual Singapore Horse Of The Year, Rocket Man, who retired in 2016 with stakes earnings in excess of $6.7 million – the highest ever earned by a Singapore-based racehorse.
Talking to the Sporting Post on Thursday afternoon, Crabbia said that he had absolutely no doubt that the stakes reductions introduced recently would result in many owners either cutting back or calling it quits.
"That's simple logic," he suggests.
Confirming that he was not a betting man, but a person who raced for the love of the sport and in the interests of contributing to an industry that was a major employer in South Africa, Crabbia said that any perception that even the most monied people raced to pump cash into a bottomless pit, and without the prospects of a reasonable return, were outrageous.
"I feel that the move to cut stakes is ill considered and is a sign of a lack of direction, compounded by a climate of ever-spiralling costs. Owners here have always been in a position where a contribution is almost inevitable. But when there is virtually no prospect of balancing the books, where's the sense or fun in going backwards at the rate of knots?" he tendered.
When asked what he felt would be an alternative to the current crisis management of chipping away at stakes, he confirmed that he was not fully informed of the circumstances that had led to the tipping point in the first place.
"It's mostly hearsay. Bad management? Excessive salary packages? Government? Who knows?  I own a lot of horses and nobody has ever come to me and said that the writing was on the wall. And something like this certainly doesn't happen overnight. The industry is owed answers – not blame or excuses or grandstanding. And what happens next year? Is there a plan?" he asked.
The longstanding owner, and a man with an impeccable reputation and held in high regard by many of our leading trainers, said that he would not be adding to his considerable string but would rather be looking at the international alternatives.
"A horse is often finished by the time we reach our destination under the current protracted export routes. We keep hearing about our equine exports being opened up. How long have we been listening to that story? I haven't fallen out of love with the game – it's just a massive disappointment and there are definitely better options in properly managed and more rewarding jurisdictions."
Click on the image below to read the Sporting Post Digest

‹ Previous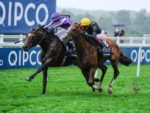 Stradivarius Finds Going Tough