The second log of standings for the R2 million Gr1 Gauteng Summer Cup has been published.
A Sporting Post reader asked us to research how the log was 'contrived', and what factors were taken cognisance of when determining positions.
He also asked what influence the handicappers had.
In a response, NHRA Senior Handicapper Lennon Maharaj said that the Summer Cup Log is a requirement/condition of the race and acts as a guide for owners and trainers to plan their route into the race.
"It also guides punters and interested parties as to which horses are likely to make up the field.The Log is done at the Handicappers discretion with input from the Racing Operator," he added.
Lennon drew our attention to an extract from the race conditions which states that the Handicappers will publish a series of Logs from 27 Sep 2019 and that Phumelela Gaming & Leisure reserves the right to have an input and into the compilation of the Logs and in determining the final field.
He said that the following factors are considered by the Handicappers when compiling the Log:
Graded Race Form
Current Form
Merit Ratings – Lower rated progressive horses may be preferred to older exposed horses or horses deemed to be on the decline
Horses returning from a long lay-off or injury should ideally prove fitness
Distance Suitability
The log will be published on a weekly basis going forward, until declarations.
Second Entries close at 11:00 on Monday 4 November 2019.
Final Entries close at 11:00 on Monday 18 November 2019.
Declarations and final field on Tuesday 19 November 2019.
Draws announced on Wednesday 20 November 2019.
Hollywoodbets have an ante-post betting market on the Summer Cup – click here
Book your ticket for the big day – click here
‹ Previous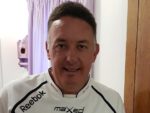 Deshone Steyn – An Appeal