Karel invites Graham Hurlstone-Jones, Michael Jackson & others to the uncertain MR-world.
This is an invitation to everyone who want to gain insight into the wonderful world of handicapping and Merit Ratings.
Anyone can take part.
All you need to do is pick a race from the cards this Saturday where all runners have ratings.
You post on this thread, saying which race, and give a summary of what your view is on the ratings (and why!).
We'll do the same for your chosen race. Then we compare notes.
After the races have been run we analyse what happened.
Let's make one thing clear: there are no rights and no wrongs – just opinions.
Then we'll decide together how to rate the race, and what adjustments should be made.
It will be good fun.And it will tell us more about MR's.
Are you game or chicken?
‹ Previous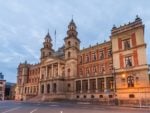 Phumelela – Bookies Appeal Fails