South African jockey JP van der Merwe rode his first double in Singapore on Sunday, which included the feature for trainer Mark Walker.
Walker claimed the race widely seen as a handy guide to the Singapore Gold Cup on Sunday, but probably not with the one he would have been tipped to win it with – Yulong Edition.
Walker also had the favourite Sacred Croix in the SG$85,000 Class 2 race over the mile, hopeful an improved showing from his encouraging flying fifth first-up in a sprint race would put him in good stead for the Gr 1 Dester Singapore Gold Cup (2000m) on November 10.
In contrast, young JPs mount Yulong Edition had been tossed into the mix as an impromptu runner. A winner in Class 4 company at his last start, the Irish-bred by Makfi had been aimed at a more realistic Class 3 race over the mile on a surface he also masters better, the Polytrack, but it was cancelled due to a shortage of entries.
The end-result could not have been a better case in point that sometimes trainers can also be caught off guard by their own horses.
Yulong Edition (Juan Paul van der Merwe) rolled forward and never called it quits while Sacred Croix (Benny Woodworth) dropped to the back, and never left that place to finish sixth, around five lengths off his stablemate.
Gold Strike (Michael Rodd), who paired up with Sacred Croix at the rear, closed off a lot better to run second, beaten half-a-length. Loyalty Man (John Powell) overcame an awkward alley to take a sit outside Yulong Edition, but the torrid time in the early stages told when stoked up for his run – he still ran a creditable third two lengths off the winner.
The winning time was 1min 34.03secs for the mile on the Short Course.
It was, however, all a bit bittersweet for Walker at the winner's area. Surprise could be read on his face – pretty much like the punters who snubbed the $79 chance – not to mention the disappointment of seeing his main Gold Cup hopeful flop, but winners are grinners.
"This horse came over in great order from Shane (Baertschiger)," said Walker.
"He was a barrier rogue, and Shane did a great job with him. He had a soft lead today, and good on JP to get a win.He was supposed to run in a Class 3 mile race, but it was scrapped as there were not enough entries. So, he got into this race by default, I hope that the handicapper doesn't give him too many points after that win."
When asked if the Singapore Gold Cup dynamics had changed in the aftermath of that unexpected result, Walker preferred not to jump the gun.
"Sacred Croix was disappointing. He didn't quicken up but I did see Benny look down around the turn after that horse (Chocolats) went amiss, so I'll have to ask him what happened," said the two-time Singapore champion trainer who claimed his first Singapore Gold Cup with Elite Invincible and jockey Benny Woodworth last year.
"As for Yulong Edition, I'm not sure what next. Let's take it one race at a time."
A rare visitor at the winner's circle, van der Merwe was lapping up the moment on Sunday. The South African jockey's last win came on Sacred Sea for Walker on July 26, and Yulong Edition was only his seventh winner from 248 rides in a rookie Kranji season which began in January.
Van der Merwe later went on to notch his first riding double in Singapore with another smokie in $170 shot Lonhro Gold two races later.
"This horse (Yulong Edition) is a good frontrunner, but his form reads better on Polytrack than on grass," said van der Merwe.
"He is a big galloper and he could do his own things in front today. He doesn't quicken up, but he keeps on galloping, he doesn't stop.
"He stayed right through and the light weight 50kgs helped him to a tee. I think the grass on top was another factor."
A former English-based stayer who came with a record of two wins (1610m and 2019m) from seven starts in UK when known as De Medici, Yulong Edition has now taken his local record to three wins and one third from eight starts for prizemoney past the $115,000 mark for the Yu Long Stable.
‹ Previous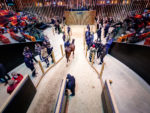 Flop Shot Heads Arc Sale