The Cape raiders have dominated the Algoa Cup, or PE July as it is popularly known, for a decade and the 2019 renewal to be run at Fairview on Sunday 27 October sees a powerful entry from the Mother City
Tabnews reports that Tap O' Noth, winner of the 2017 Gr1 Cape Guineas, is among the 29 entries for this year's Listed Algoa Cup over 2000m on the Fairview turf track on Sunday 27 October.
As expected, trainers from the Western Cape have flocked to nominated runners for this R350 000 race, including Justin Snaith, Candice Bass-Robinson, Brett Crawford, Glen Kotzen, Andre Nel, and Vaughan Marshall, who trains Tap O' Noth.
Tap O' Noth has not raced since contesting the Sun Met in January but he has outstanding form.
Having placed in the Daily News 2000 and the Champions Cup, both Grade 1 events, he has been allotted a massive weight of 68kg and that is likely to diminish his chances of running.
Snaith, who won the race last year with Magnificent Seven, has nominated Elusive Silva, Platinum Prince and Knights Templar, Bass-Robinson has Majestic Mozart and Celestial Prince, while Crawford has entered last year's East Cape Derby winner American Landing, stayer Gimme One Night, Magic Mike and Vforvictory.
Kotzen has Herodotus and Cat Daddy but Glen is one of three members of the family to have entered runners. Bother Nathan has nominated Tommy Grand while Sharon, who is based in Port Elizabeth, has Just Chaos and Seeking Wisdom.
There is also a strong entry from Port Elizabeth-based trainers who would like nothing better than to wrest this title from the raiders.
R350 000 2000m
G-BETS ALGOA CUP (Listed)
Open
WFA: 3yrs-9kgs 4yrs-1kgs
No Apprentice Allowance
0
$Mangrove
(6G)
0
96
A
Yvette Bremner
17
Tap O' Noth
(5G)
68
120
BA
Vaughan Marshall
10
Elusive Silva
(7G)
63.5
111
A
Justin Snaith
27
Herodotus
(4G)
63
112
A
Glen Kotzen
18
Majestic Mozart
(4G)
62.5
111
AT
Candice Bass-Robinson
7
Meryl
(5M)
60
104
AT
Alan Greeff
20
Run Red
(5G)
60
104
A
Andre Nel
24
Gimme One Night
(6G)
59.5
103
A
Brett Crawford
21
Platinum Prince
(6G)
59.5
103
A
Justin Snaith
4
Crome Yellow
(5G)
57
98
A
Andre Nel
19
American Landing
(5G)
56.5
97
ATM
Brett Crawford
13
Knights Templar

Accepted

(4G)
55.5
97
A
Justin Snaith
9
Cat Daddy
(4G)
54
94
A
Glen Kotzen
8
Story Of My Life
(6G)
53
90
AT
Gavin Smith
15
Tommy Grand
(5G)
53
90
A
Nathan Kotzen
23
Celestial Prince
(4G)
52
90
BA
Candice Bass-Robinson
1
Just Chaos
(4F)
52
90
BA
Sharon B Kotzen
6
Seeking Wisdom
(5M)
52
88
A
Sharon B Kotzen
11
Frikkie
(8G)
51.5
87
XAT
Jacques Strydom
5
Onesie
(6M)
51
86
BA
Jacques Strydom
26
Magic Mike
(4G)
50.5
87
A
Brett Crawford
28
Evolver
(5G)
50.5
85
BA
Gavin Smith
3
Ollivander
(6G)
50.5
85
BA
Tara Laing
22
In A Perfect World
(4G)
49
84
BAT
Alan Greeff
12
Jay's Hawk
(4G)
47
80
A
Yvette Bremner
2
Vforvictory
(4C)
43.5
73
BA
Brett Crawford
25
Victory March
(4C)
43.5
73
A
Emmanuel Kaknis
16
Tom 'n Jerry
(4G)
41.5
69
BA
Gavin Smith
14
Captain's Vista
(7G)
38
60
AT
Emmanuel Kaknis
(29)
This meeting is a double header as racing will take place on the Polytrack on Friday 25 October which sees the running of the Listed Racing Association Stakes over 1600m.
Many top horses have one this, including Bold Silvano, who went on to race overseas and has gone on to produce many winners at stud.
Topping the list of entries is yet another runner from the Marshall yard and that is Cane Lime 'N Soda, an impressive winner in a strong handicap against older horses at Durbanville last Saturday.
Snaith has nominated a son of Frankel, General Franco, who has been disappointing following after an impressive debut win.
Supplementary entries close at 9am on Thursday 10 October and final declarations must be in by 10am on Monday 21 October.
Race-7 (Turf) R150 000 1600m
RACING ASSOCIATION STAKES (Listed)
For 3 year-olds
No Apprentice Allowance
0
$Turn It Up Harvey
(3G)
0
0
A
Candice Bass-Robinson
15
Foreign Source
(3C)
57
107
AT
Alan Greeff
8
Hooves Of Troy
(3G)
57
104
A
Gavin Smith
9
General Franco
(3C)
56
102
A
Justin Snaith
16
Yorktown
(3C)
56
98
A
Brett Crawford
21
#Late At Night
(3C)
56
96
A
Brett Crawford
4
Viva Rio
(3G)
56
93
A
Glen Kotzen
13
Cane Lime 'n Soda
(3C)
56
92
A
Vaughan Marshall
14
Stopalltheclocks
(3G)
56
91
A
Justin Snaith
5
Bag Of Tricks
(3C)
56
89
A
Brett Crawford
28
Sir Caleb
(3C)
56
89
A
Gavin Smith
6
Justfortheepenny
(3C)
56
88
A
Nathan Kotzen
17
Hexatonic
(3G)
56
85
A
Glen Kotzen
22
Amber Tree
(3G)
56
82
A
Yvette Bremner
11
#Humanitarian
(3C)
56
82
a
Jacques Strydom
20
Super Silvano
(3C)
56
79
A
Brett Crawford
27
Bayou Boss
(3G)
56
78
A
Yvette Bremner
12
Giacomo
(3G)
56
77
BAT
Alan Greeff
26
Nicalex
(3G)
56
75
A
Yvette Bremner
10
Lucio
(3G)
56
74
A
Alan Greeff
24
Gaelic Storm
(3G)
56
70
A
Yvette Bremner
1
#Nickelback
(3C)
56
0
A
Yvette Bremner
3
Luna Wish
(3F)
54.5
96
A
Alan Greeff
2
Brandina
(3F)
53.5
94
A
Alan Greeff
19
Scarborough Fair
(3F)
53.5
94
BA
Sharon B Kotzen
7
Glory Days
(3F)
53.5
89
A
Yvette Bremner
23
Great Achievement
(3F)
53.5
78
A
Alan Greeff
18
Mistress Of Means
(3F)
53.5
77
A
Sharon B Kotzen
25
#Evermore
(3F)
53.5
0
A
Yvette Bremner
(29)
‹ Previous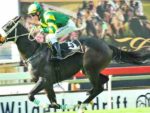 Turffontein Today