The objection in Saturday's Gr2 Joburg Spring Challenge at Turffontein arose as a result of a jockey accidentally striking another runner in the face.
This has emerged from the official Stipes Report published by the National Horseracing Authority, which indicates that the originally fourth-placed Infamous Fox (AUS) (W Kennedy) was carried out by runner-up Zouaves (M van Rensburg) from the 300m to the 150m.
Thereafter, when racing in close quarters, Infamous Fox (IRE) was accidentally struck in the face on at least two occasions by Jockey Marco van Rensburg, resulting in this gelding reacting to the strikes.
A member of the Stipendiary Board called a race review into this incident, which was followed by him lodging an objection on behalf of Infamous Fox (AUS), placed fourth, against the second placed Zouaves on the grounds of interference and intimidation in the concluding stages.
The Objection Board, after reviewing the patrol film of the incident complained of, was of the opinion that this had affected the result of the race and the two strikes to Infamous Fox's (IRE) head had been detrimental to its performance when taking into consideration the 0.10 distance between the horses at the line. They upheld the objection and amended the judge's result.
The Board was satisfied that Jockey Marco van Rensburg's  use of the crop when he accidentally struck Infamous Fox (IRE)  was unintentional and therefore took no action against him.
While the Stipes may have got it right, the communication flow and information dissemination, or lack it, to the punting public has irked a few of our readers, including a former owner.
He suggests in an email to the Sporting Post that the handling of the objection, and the new result will do nothing to enhance the current poor situation of our racing.
One hour after the decision to place the 2nd horse 4th, still no explanation.
The only positive is that I am left pondering why I play this game, that used to be great and transparent. What happened to the explanations regarding similar issues. What happened to inquiries regarding complete outsiders winning?
The Sporting Post has sent the query to Tellytrack, Phumelela and the NHRA for comment. We will publish any response that is received.
‹ Previous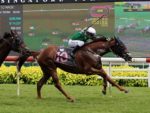 JP's Kranji Double Celebration