The National Horseracing Authority have published their official assessment of the past weekend's features.
Gr2 Western Cape Fillies Championship
THIRD RUNWAY has seen her merit rating raised from 97 to 109 after she made a winning seasonal debut in the Grade 2 Western Cape Fillies Championship for three-year-olds over 1400m at Kenilworth on Saturday 26 October.
The Handicappers were of the view that runner-up PRETTY YOUNG THING (who incidentally was beaten 4.25 lengths by THIRD RUNWAY in a maiden juvenile plate over the same distance at Durbanville back in May) was the correct line horse to use in assessing the race and as such, she remains unchanged on 105.
Third placed ROLL IN THE HAY goes up from 99 to 104, while fourth placed DRIVING MISS DAISY also goes up to 104 (from 96.)
Fifth finisher LARENTINA has been raised from 85 to 103, while sixth placed SAILING SHIP goes up from 87 to 98.  DRAMA QUEEN and POINT OF SALE both go up to 95 from 93 and 92 respectively.  The only drop was to SOMEWHERE IN TIME, who goes from 94 to 91.
SILVER OPERATOR's merit rating has been increased from 106 to 109 after he captured the Grade 3 Cape Classic for three-year-olds over 1400m at Kenilworth on Saturday.
The Handicappers felt that it was highly unlikely that SILVER OPERATOR would have run below the 109 he actually achieved when he finished a close second behind BELGARION in a handicap on his seasonal debut in September.
The merit of that performance was underlined when BELGARION won the Listed Settlers Trophy at his next start.
Runner-up CAPTAIN TATTERS was raised from 99 to 108 after beating the third placed runner SEVENTH GEAR by 2.75 lengths.  SEVENTH GEAR in turn goes up from 95 to 100, fourth placed PRINCE OF PERSIA is now 99 (up from 90) and fifth placed MACTHIEF has been raised from 97 to 103.
The third, fourth and fifth horses were rated relative to seventh finisher KING OF GEMS and as such all of this group would meet on the correct terms if they were to face each other in a handicap race.
The only other change was to GENERAL FRANCO, who drops from 102 to 99.
Listed Racing Association Stakes
VIVA RIO'S merit rating was raised from 93 to 108 after he ran out an easy winner of the Listed Racing Association Stakes for three-year-olds over 1600m at Fairview (turf track) on Friday 25 October.
It was decided by the Handicappers that fourth placed LUNA WISH was the correct line horse to use in assessing the race and accordingly her rating remains unchanged on 96.
Runner-up FOREIGN SOURCE also remains unchanged on 107, but third placed CANE LIME 'N SODA has been increased from 98 to 101.
CANE LIME 'N SODA also achieved 101 when he won a Kenilworth maiden race by 8.5 lengths in August and it was felt that he was unlikely to have fared worse by finishing third at Listed level.
Fifth placed JUSTFORTHEEPENNY goes up from 88 to 91, while SCARBOROUGH FAIR drops from 94 to 92.
Listed Socrasync Toro Ya Africa Algoa Cup
CAT DADDY has had his merit rating increased from 94 to 101 after his easy success in the Listed Socrasync Toro Ya Africa Algoa Cup (handicap) over 2000m on the Fairview turf track on Sunday 27 October.
In a race where the first five places were all taken by Cape Town raiders, it was decided by the Handicappers that fourth placed CROME YELLOW made for the best line horse and as such his rating remains unchanged.
Runner-up KNIGHTS TEMPLAR goes up from 97 to 100, while third placed DUC D'ORANGE goes up from 88 to 92 as the combined effect of having been 1 kg under sufferance and carrying 1 kg overweight.
Numerous horses were given a ratings' drop.
TOMMY GRAND goes from 90 to 89, AMERICAN LANDING was trimmed from 97 to 96, MANGROVE drops from 96 to 95, OLLIVANDER goes from 85 to 81 and JUST CHAOS drops to 87 from 90.
‹ Previous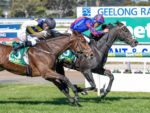 Cross Counter Stands Ground