The NHRA Handicappers have issued their assessment of the past weekend's feature race action.
Joburg Spring Challenge (Grade 2) – 5 October 2019
PRINCE OF KAHAL has had his merit rating increased from 116 to 118 after his narrow victory in a tight finish of the Grade 2 Joburg Spring Challenge over 1450m at Turffontein (inside track) on Saturday.
The handicappers were happy to use fourth placed ZOUAVES as the line horse even though he was relegated from second place after an objection on the grounds that his rider had inadvertently struck INFAMOUS FOX across the face with his crop.
This incident in no way prejudiced ZOUAVES' chances in the race, and the very close nature of the finish means that he would run to the same mark whether he was placed 2nd or 4th.  He is ultra-consistent and arguably at his absolute best over distances around 1400m, so despite the objection he was considered a suitable line horse.
Runner-up CHIJMES has had his rating increased from 111 to 117, whereas INFAMOUS FOX remains unaltered on 122.  The three-year-olds PUTONTHEREDLIGHT and EHSAAN, who respectively finished 6th and 7th, have been raised to 110 and 108 respectively, so they would meet on the correct terms in a handicap race.
In other changes, WILL PAYS was dropped from 119 to 116, while ROMI'S BOY drops from 112 to 110.
Joburg Spring Fillies & Mares Stakes (Grade 2) – 5 October 2019
VISTULA's merit rating remains unchanged on 115 after she narrowly won the Grade 2 Joburg Spring F&M Challenge over 1450m on the Turffontein inside track on Saturday.  Here, it was felt that 3rd placed PERFECT TIGRESS made for a suitable line horse despite returning from an absence of over four months, and as such her rating of 109 remains unaltered as well.
Runner-up GIN FIZZ was raised from 100 to 110 after putting up an excellent performance in her first attempt beyond 1200m, while fellow three-year-old SPIRITOFTHEGROOVE, who finished 4th in what was also her first try over further than 1200m, was raised from 106 to 107.
5th placed SIDONIE, who led for much of the way in what was only the second appearance of her career, goes up from 96 to 105.
In other changes, SCHIPPERS drops from 117 to 116, ROUGE ALLURE goes down to 101 from 102, GREEN TOP drops from 100 to 96, and CARIOCA drops from 100 to 98.
Matchem Stakes (Grade 3) – 5 October 2019
ONE WORLD remains unchanged with a rating of 127 after he made a winning seasonal debut in the Grade 3 Matchem Stakes over 1400m at Durbanville on Saturday.  Here, fourth placed PLEASEDTOMEETYOU was used as the line horse, and by rating the race this way runner-up SEARCH PARTY and 7th placed SACRED ARROW also run to their marks.  As such, their ratings also remain as they were.
In fact, the only change made for this race was to the rating of solitary three-year-old AFRICAN WARRIOR, who had no luck in running after starting from a wide draw.  His eye-catching effort sees him going up from 112 to 115.
Diana Stakes (Grade 3) – 5 October 2019
FRONT AND CENTRE's rating of 122 remains unchanged after she made a winning seasonal debut in the Grade 3 Diana Stakes for fillies and mares over 1400m at Durbanville on Saturday.
Here, the very consistent 3rd placed HELEN'S IDEAL was used as the line horse, which has FRONT AND CENTRE running below her mark to 118 and which obviously means that HELEN'S IDEAL remains unchanged on 109.  Runner-up FREEDOM CHARTER also stays unaltered on 114.
4th placed SHAMROCK WIND and 5th placed STAR FIGHTER were both raised 106 from 101 and 105 respectively.  Three horses had their ratings dropped.   DYNAMIC DIANA goes from 110 to 108, SUGAR GIRL drops from 108 to 106, and INTOTHELIMELIGHT was trimmed to 95 from 96.
‹ Previous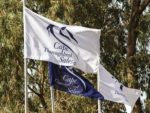 CTS Incentivise 2yo Stakes Winners