Wednesday, 2 October 2019 saw Racing, It's A Rush host the Cape Town launch of their new Young Bloods series under the leafy branches of Neil Basel's uber trendy Station on Bree.
The fabulous Station Team made everyone feel like treasured guests with a red carpet, open arms and welcome cocktails to savour on their cosy sidewalk deck.  With the breeding season under way in earnest and spirits buoyed by the imminent launch of the Cape summer season, it was a festive bunch that gathered in the balmy spring evening.  Racing is so busy that there never seems enough time to catch up on everything, but we give it our best shot, and the air was soon buzzing with racing news, views and pre-season debate.
With glasses freshly recharged, guests were ushered into the Station basement to collect bags of popcorn and then directed up a different flight of stairs onto the upper level which had been transformed into a mini cinema for the evening.
Young Bloods is a Racing, It's A Rush initiative to create a vehicle to reach out to sectors beyond racing's doors.  Sublime Media and co-producer Chris Santos (of EIB fame) spent a year scouring the length and breadth of South Africa collecting 100 hours of interviews and footage from across the country.
Described as 'an intimate look at the lifestyle and behind-the-scenes footage from aspiring jockeys, trainers, vets, stipendiary stewards and even commentators who make up the next generation of racing greats,' Young Bloods stars faces and places so familiar you can practically smell the grass and feel the South Easter.  The 40 minute documentary features a selection of our leading stud farms, stud staff, trainers, jockeys and industry personalities who take us behind the stable, studio and weighing room door to showcase the amazing passion, energy and talent that makes their corner of the racing industry great.
It is proof of racing's sheer bloody mindedness that a project like this is even attempted in the face of the industry's current woes, but in many ways, it's that stubborn refusal to give up in the face of adversity that makes us so maddeningly appealing.  But then racing has always been built on a solid foundation of hope.
Have a sneak peek at what's in store below:-
Keep an eye on the Racing, It's A Rush Facebook and Instagram pages for news on the general release.
‹ Previous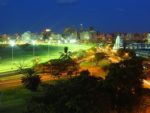 KZN Night Racing Season Starts