The South African Jockey Academy held its first ever Final Selection Camp recently in a move to further streamline the selection process for apprentices.
Fifteen short-listed candidates converged on the Academy in Summerveld to gain some hands on experience on what it's like to be an apprentice jockey.
Convener of the camp, Academy Registered Nurse and Head of the Support Staff, Debbie Butt explained that "the aim of the camp was two-fold, to give the shortlisted candidates a feel for what it's like to be an apprentice, but also to provide the Academy Jockey Coaches and Support Staff an opportunity to work with the applicants and ascertain the potential each applicant would have to become an apprentice jockey".

Each applicant was partnered with a 1st year apprentice, who acted as a buddy and showed each applicant the ropes.
Activities at the camp were varied and included mucking out the stables, grooming the Academy horses, gym and fitness assessments, a tour of Hollywoodbets Greyville racecourse, psychometric testing and two interesting and thought provoking sessions with Academy Sports Psychologist Dr Kirsten Van Heerden that dealt with success and problem solving!

All applicants also rode under the supervision of Academy Jockey Coaches Martin Ball, Laurence O' Donoghue, John Motaung, Nicky Roebuck and Paddy Wynne.
As the levels of riding proficiency ranged from never having sat on a horse before to show jumping and having ridden work, all applicants started out with an assessment on the race simulators and trainers. This was followed by riding on the lunge for those who hadn't ridden before and indoor arena and track work on the Academy track for those with riding experience.
The Camp was very successful and thoroughly enjoyed by all participants, especially those applicants who had never worked with a horse before. They were left with a sense of awe after having worked closely with the Academy horses for 5 days.
‹ Previous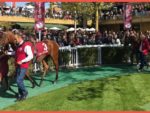 Shamardal – Giant Of The Turf