Two sons of Scat Daddy–Justify and Mendelssohn–each covered 252 mares while standing their first seasons at Coolmore America's Ashford Stud this year, knocking Spendthrift Farm's Into Mischief (Harlan's Holiday), who bred 241 mares, off his two-year reign as North America's top-covering stallion.
Coolmore's Uncle Mo (Indian Charlie) also covered 241 mares. Back in 2016, Uncle Mo led the continent with 253 mares bred.
T.D Thornton writes on www.thoroughbreddailynews.com that these statistics are based on 2019 reports of mares bred in North America (RMB) that were released on Thursday by The Jockey Club (TJC).
TJC annually releases RMB figures at this time of year. But this year's cover numbers, which serve as a barometer for the continent's breeding industry, are likely to be viewed in a different light this time around because TJC's board of stewards is in the midst of considering per-stallion breeding limits that could be phased in over three years starting with the 2021 season.
When the proposed mandate to the number of cap mares bred at 140 was first made public Sep. 6, the concept was met with a hazy mixture of consternation and support within the United States bloodstock community.
TJC told TDN when the story was first reported that a new rule regarding cap limits could be announced before the end of this year.
In 2018, five stallions topped 200 covers based on RMB reports released that October. This year there were eight.
The only other stallions to crack 200 RMBs in 2019 were Spendthrift's duo of Goldencents (Into Mischief) at 239 and Bolt d'Oro (Medaglia d'Oro) at 214, then Coolmore's duo of Munnings (Speightstown) at 202 and Practical Joke (Into Mischief) at 200.
In fact, of the first 14 stallions on the most-covers list, only two are not standing at either Coolmore or Spendthrift: Sharp Azteca (Freud) with 195 for Three Chimneys Farm, and Klimt with 187 for Darby Dan Farm.
Using the 140 number that is under consideration for TJC's cap, in 2018 there were 41 stallions that covered 140 or more mares. This year that number rose to 44.
And of those 44 stallions who covered 140 or more mares this year, all but three stand in Kentucky.
Every GI Kentucky Derby winner between 2014 and 2018 is also above the proposed 140 cutoff.
Kentucky-based stallions occupied the top 31 positions on the RMB list. Girvin (Tale of Ekati), who stood his first season this year at Ocala Stud in Florida, was the first non-Kentucky stallion to crack the rankings at No. 32 (149 covers).
‹ Previous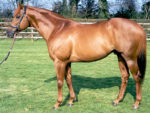 The Pivotal Principle