Tellytrack presenters are amongst the Racing Public's favourite battering rams.
If most of our poster's comments are to be believed, nobody listens to the presenters and the sound is always on 'mute' anyway.
And the presenters can't win.
If they are too complimentary and kind – a la Brandon Bailey – they get shot down in flames.
If they fall over pronounciations or English – a la Julie Alexander – they get ridiculed.
If they promote their own affiliations and causes – a la (You guess) – they get frowned upon. We have had a few of them over the years.
If they love their horses and admire their coats and pretty manes – a la Vicky Minott – they get replaced.
If they waffle a bit, they are boring.
If they are ex-jockeys with an off-the-wall sense of humour, they get attacked for not having attended the broadcasting college of knowledge – wherever that is.
But when an SP reader drops us a line and asks that we acknowledge Stan Elley, we are only too happy too.
On the Durbanville card yesterday, according to our reader, Stan tipped the first 5 winners and the last race winner as his first choice.
"Not bad, six out of eight" says the former owner who acknowledges the former trainer and a man who really knows his stuff.
Well done, Stan!
There was talk at one stage of Tellytrack monitoring the presenter's individual performances. This has never been made public.
‹ Previous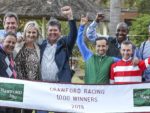 Crawford – 1000 On The Board