The Sun Met is the biggest casualty in Phumelela's stakes reduction programme with the value of the Cape Town showpiece dropping from R5 million to R3 million.
It used to be run for R2,5 million but the stake was doubled in 2017.
Michael Clower reports on www.goldcircle.co.za that the other main features on February 1 are unchanged – with the two CTS sales races worth R5m each and the Majorca and Cape Flying both remaining on R1 million – but the Western Cape Stayers and the Politician both drop R50 000 to R350 000 and R200 000 respectively in line with the reductions already known for Grade 2 and Grade 3 races.
The L'Ormarins Queen's Plate on January 11 stays at R1,5 million and the Paddock Stakes on R1 million but the Peninsula Handicap and the Chairman's Cup that day take R50 000 drops to R350 000 and R200 000.
The revamped Cape Derby meeting on February 22 – intended as a showpiece for the Asian Racing Conference – sees the Diadem and Prix Du Cap both taking R50 000 drops but the R1 million Derby is untouched as is the Cape Nursery (R200 000) and the R150 000 Jet Master.
For many owners and trainers, though, it is the reductions across a broad sweep of maidens and handicaps that will be felt most.
An ordinary maiden, for instance, will drop from R80 000 to R 70 000 at Kenilworth and Durbanville.
There are also cuts at the other Phumelela-administered courses – Turffontein, the Vaal, Fairview and Flamingo Park – with falling betting turnover to blame as well as the loss of the Gauteng Provincial Government levy on winning bets.
Interestingly there are no cuts planned – for the time being anyway – at the two Hollywoodbets-sponsored KZN courses Greyville and Scottsville even though many of their bread-and-butter races offer higher stakes than those in Cape Town.
‹ Previous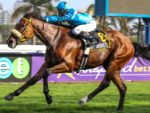 Puller Sets Summer Pace