The South African Association of Professional Farriers (SAAPF) in conjunction with Vetscape Equine will be hosting a shoeing and anatomy clinic in Paarl on Saturday, 2 November 2019.
This unique one day event is open to anyone wishing to further their knowledge of equine anatomy and offers a whole horse dissection (subject to availability).  Should a full cadaver not be available, a limb dissection will be offered instead.
COST : SAAPF members R500 per member.  NON members welcome at R 1 000 per person
Venue : Vetscape Equine Hospital, Paarl, Western Cape
Time : 9am for registrations with the clinic to commence at 9:30am
Catering: TEA and LUNCH will be provided and there will be a break to watch the Rugby World Cup final.
Please note:  availability is limited.  Interested parties should please contact Catherine Zimmerman at [email protected] for more information or to secure your slot.
‹ Previous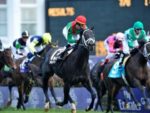 TAB's Breeders' Cup Bonanza