A Dubai-based researcher is set to visit South Africa in January to meet with racing industry officials to discuss the introduction of a new AHS vaccine.
A leading South African racehorse owner has asked why we have not introduced this yet and forwarded the undermentioned article carried on www.thenational.ae website to the Sporting Post.

An AHS related case was reported in Gauteng on Saturday and at the Vaal on Saturday champion trainer Mike de Kock called on authorities to address the issues.
A copy of the Dubai editorial has been forwarded to Adrian Todd at the SAEHP for comment.
Scientists at the Central Veterinary Research Laboratory (CVRL) in Dubai have developed what is thought to be the most effective vaccine yet against African horse sickness (AHS), a viral disease which can prove fatal to more than eight in 10 infected animals.
The disease has been known for nearly 800 years, but there is no effective treatment, making the creation of a reliable and safe vaccine all the more important.
Dr Ulrich Wernery, the CVRL's scientific director, has seen animals infected with the condition and described it as "one of the worst equine diseases you can think of".
Although vaccines against the disease have been used from as far back as the early 1900s, the vaccine most widely applied currently contains an attenuated or weakened virus that, on occasion, has mutated and turned virulent, killing vaccinated animals.
"It's a good vaccine but in specific circumstances it can produce the disease," said Dr Wernery.
The CVRL vaccine, however, uses inactivated viruses that are unable to become virulent again.
Between 60 and 85 percent of horses that become infected go on to die from AHS, which was first identified in the year 1237.
The disease has never been found in the UAE, but the midges that transmit it are present in the Emirates. In previous decades there have been outbreaks in Saudi Arabia and Yemen.
AHS has also infected horses in Asian countries. Between 1959 and 1961, it caused an estimated 300,000 horse deaths in India and Pakistan. It remains endemic in sub-Saharan Africa.
The vaccine CVRL has developed is now being used in Kenya and Sudan, and appears to be effective at reducing infection rates.
"We have very good news just recently that Kenya has not one case of African horse sickness this year, most probably because of our vaccine," said Dr Wernery.
"This is the first year that they didn't have an outbreak, but they have previously reduced outbreaks because now everybody uses our vaccine. I believe we can eradicate the disease from parts of Kenya.
The virus that causes AHS exists in nine serotypes – forms that cause a particular immune response in infected animals in terms of the antibodies produced – and the CVRL began identifying and isolating them in its laboratories in 2002.
It was not until 2014, however, that CVRL's head of virology and senior scientist, Dr Sunitha Joseph, and her team completed the task of isolating all nine.
CVRL had to produce separate vaccines against each of the nine serotypes. Once this had been done, vaccine testing took place between 2018 and early 2019 on 29 retired race horses.
A PhD student at CVRL, Marina Rodriguez injected the horses – kept at a desert location in Dubai – with the vaccines and analysed their immune response.
CVRL's vaccine is currently produced only at the organisation's laboratories in Dubai, but they are keen to find a partner in Africa who can carry out production there.
In January, Dr Wernery and his wife, Renate, a virologist, will travel to South Africa to meet officials and discuss the introduction of the vaccine in the country.
‹ Previous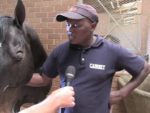 JR's Top Man Joins De Kock