The California Chrome Syndicate has reached an agreement with JS Company in Japan to sell California Chrome, subject to all the Japanese government's quarantine and exportation requirements being met.
The Racing Post reports that as part of the agreement, the California Chrome Syndicate has the first right of refusal if California Chrome is ever sold on, and upon retirement from breeding, he can live out the remainder of his life at Taylor Made.
Owners Perry and Denise Martin will continue to participate in California Chrome's breeding career in Japan.
"We were approached by representatives of the buyer, and being that California Chrome is owned by a 50-share syndicate, the offer was presented to the shareholders for a vote," said Taylor Made's Duncan Taylor.
"Ultimately, the results were in favour of moving forward with the sale. California Chrome is the best horse we've ever owned, and he'll now have the opportunity to have offspring performing in three different countries.
"California Chrome is a very special horse and means a lot to not only the team members of Taylor Made but to the thousands of fans he has across the country."
California Chrome, the US Horse of the Year in 2014 and 2016, won seven Grade 1 races, namely the Kentucky Derby, Preakness Stakes, Pacific Classic, Dubai World Cup, Santa Anita Derby, Awesome Again Stakes and Hollywood Derby, and retired with earnings of just shy of $15 million, making him the richest Kentucky Derby winner in history.
Hailing from the A.P. Indy sire line, California Chrome bred 473 mares in his first three books at Taylor Made Stallions and his first crop of yearlings sold this year for up to $325,000.
California Chrome also stood the southern hemisphere breeding seasons in 2017 and 2018 at Sumaya Stud in Chile.
A 2011 son of Lucky Pulpit out of the Not For Love mare Love The Chase, California Chrome stood for $35,000 at Taylor Made this year.
www.racingpost.com
‹ Previous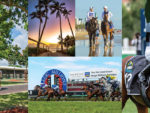 A Magic Catalogue