Sean Tarry's Pomodoro grey Invisible was the big mover this week on the CTS Ready To Run Stakes log after running unplaced, but just over 5 lengths off Mill Queen in Saturday's Gr3 Starling Stakes.
Invisible is now the top-ranked filly as she jumps from 21st position to 7th.
Last season's Premiers Champion Stakes third-placer Rock The Globe – also from the Tarry yard – remains the log-topper.
Entries for the race close at 11h00 on Friday 8 November.
The rest of the log standings are largely unchanged for prospective contestants in the R2,5 million CTS Ready To Run Stakes to be fought out at Kenilworth on 23 November
The 1400m race is restricted to eligible graduates of the 2018 CTS Ready To Run Sales.
Supplementary entries are due by 11h00 on Wednesday 13 November.
Declarations are due by 11h00 on Thursday 14 November.
The Log per 6 November
| | | | | | | | |
| --- | --- | --- | --- | --- | --- | --- | --- |
| 06-Nov | 30-Oct | 23-Oct | Horse | Age | Sex | MR | Wns |
| 1 | 1 | 1 | ROCK THE GLOBE | 3 | C | 106 | 1 |
| 2 | 2 | 2 | INVIDIA | 3 | G | 104 | 2 |
| 3 | 3 | 3 | FINDING CAMELOT | 3 | C | 98 | 1 |
| 4 | 4 | 4 | DUBLIN QUAYS | 3 | G | 96 | 1 |
| 5 | 5 | 5 | RIO QUERARI | 3 | C | 95 | 2 |
| 5 | 5 | 5 | SHANGO | 3 | C | 95 | 1 |
| 7 | 21 | 20 | INVISIBLE | 3 | F | 93 | 1 |
| 8 | 7 | 7 | BAG OF TRICKS | 3 | C | 91 | 2 |
| 8 | 7 | 7 | TIGER'S ROCK | 3 | C | 91 | 1 |
| 8 | 7 | 7 | SAVVY | 3 | G | 91 | 1 |
| 11 | 10 | 10 | IMMEASURABLE | 3 | G | 90 | 0 |
| 12 | 11 | 11 | ON MY MIND | 3 | C | 89 | 1 |
| 12 | 11 | 11 | PURE STATE | 3 | C | 89 | 1 |
| 14 | 13 | 13 | DOUBLE GRATITUDE | 3 | C | 87 | 1 |
| 14 | 13 | 13 | ETCHED IN BLUE | 3 | G | 87 | 1 |
| 16 | 15 | 15 | PERFECTLY PUTT | 3 | G | 86 | 1 |
| 16 | 15 | 22 | OVER THE ODDS | 3 | G | 86 | 1 |
| 18 | 30 | 31 | BALLON D'OR | 3 | C | 85 | 1 |
| 18 | 17 | 16 | FREEDOM OF SPEECH | 3 | G | 85 | 1 |
| 18 | 17 | 16 | KNIGHT WARRIOR | 3 | G | 85 | 1 |
| 21 | 19 | 18 | CAVALIERI | 3 | C | 84 | 1 |
| 21 | 19 | 18 | ESCAPE TO VICTORY | 3 | F | 84 | 1 |
| 23 | 21 | 20 | LAND OF THE BRAVE | 3 | G | 83 | 1 |
| 23 | | | WESTERN FORT | 3 | C | 83 | 1 |
| 25 | 23 | 22 | THE FORERUNNER | 3 | G | 82 | 0 |
| 25 | 23 | 22 | SULLENBERGER | 3 | G | 82 | 1 |
| 27 | 26 | 27 | CAPACITY CROWD | 3 | F | 81 | 1 |
| 27 | 26 | 27 | CAPE OF STORMS | 3 | G | 81 | 1 |
| 27 | 26 | 27 | GIMME GIMME GIMME | 3 | F | 81 | 1 |
| 30 | 30 | 31 | LEAD SINGER | 3 | G | 80 | 0 |
| 30 | 30 | 31 | PALACE QUEEN | 3 | F | 80 | 1 |
| 32 | 38 | 38 | PAY PAY | 3 | F | 79 | 1 |
| 32 | 33 | 31 | RETAIL THERAPY | 3 | F | 79 | 0 |
| 32 | 33 | 22 | PSYCHEDELIC | 3 | G | 79 | 1 |
| 32 | 26 | 27 | TUNNELOFLOVE | 3 | C | 79 | 0 |
| 32 | 33 | 35 | CHIEF OFFICER | 3 | G | 79 | 0 |
| 32 | 33 | 35 | MADDOX TUNE | 3 | F | 79 | 1 |
| 38 | 23 | 22 | ELUSIVE RAIN | 3 | F | 77 | 1 |
| 38 | 40 | 40 | DOPPIO ORO | 3 | C | 77 | 0 |
| 40 | 39 | 39 | ROCK MANOR | 3 | G | 76 | 0 |
| 41 | | | ELUSIVE FORCE | 3 | F | 75 | 0 |
| 41 | 40 | 40 | WILL SCARLET | 3 | G | 75 | 0 |
| 43 | 42 | 42 | RAINBOW HAZE | 3 | F | 74 | 0 |
| 43 | 42 | 42 | QUERARI'S COWBOY | 3 | G | 74 | 0 |
| 45 | 37 | 37 | OPTIMUM | 3 | G | 73 | 1 |
| 46 | 42 | 42 | FORBACH | 3 | C | 72 | 0 |
| 47 | 46 | 46 | GINA'S GIRL | 3 | F | 71 | 0 |
| 48 | 42 | 42 | TWILIGHT ZONE | 3 | G | 70 | 0 |
| 49 | 48 | 48 | TUYUCA | 3 | F | 68 | 1 |
| 49 | 48 | 48 | CABALLE | 3 | F | 68 | 0 |
| 49 | 59 | 58 | INFINITY BLUE | 3 | F | 68 | 0 |
| 49 | 48 | 48 | SPOOKY | 3 | G | 68 | 0 |
| 53 | 51 | 51 | DELIVERANCE | 3 | F | 67 | 0 |
| 54 | 47 | 47 | ROCK THE NIGHT | 3 | C | 64 | 0 |
| 55 | 51 | 51 | SALVADORA | 3 | F | 62 | 0 |
| 55 | 53 | 53 | SNIPER FIRE | 3 | C | 62 | 0 |
| 57 | 54 | 54 | WHY LEIGH | 3 | F | 59 | 0 |
| 58 | 55 | 61 | WHIPPING MARMALADE | 3 | G | 58 | 0 |
| 59 | 56 | 55 | JAY IS SIMPLE | 3 | F | 56 | 0 |
| 59 | 56 | 55 | PLAIN SAILING | 3 | G | 56 | 0 |
| 61 | 58 | 57 | TAHITIAN STAR | 3 | F | 55 | 0 |
| 62 | 59 | 58 | SILENT WYLIE | 3 | F | 54 | 0 |
| 62 | 59 | 58 | SPANISH FORT | 3 | G | 54 | 1 |
| 64 | 62 | 62 | BOLD OVER | 3 | F | 52 | 0 |
| 65 | 63 | 63 | FRED THE RED | 3 | C | 27 | 0 |
| | | | | | | | |
| | | | Alphabetical Order | | | | |
| | | | ATHENIAN QUEEN | 3 | F | 0 | 0 |
| | | | BERGERAC | 3 | C | 0 | 0 |
| | | | BRUNI'S BOY | 3 | C | 0 | 0 |
| | | | CHROME GYPSY | 3 | F | 0 | 0 |
| | | | CHUNKY THE LEGEND | 3 | G | 0 | 0 |
| | | | CORNISH POMODORO | 3 | C | 0 | 0 |
| | | | COUNT YOUR JACKS | 3 | G | 0 | 0 |
| | | | FAYROOZ | 3 | F | 0 | 0 |
| | | | FIFTH OF JULY | 3 | G | 0 | 0 |
| | | | FIRST WATER | 3 | F | 0 | 0 |
| | | | FORT ROYAL | 3 | F | 0 | 0 |
| | | | GIMME HEINEKEN | 3 | G | 0 | 0 |
| | | | GOLD STORM | 3 | C | 0 | 0 |
| | | | GROSVENOR HOUSE | 3 | C | 0 | 0 |
| | | | INTOTHEMYSTIC | 3 | C | 0 | 0 |
| | | | JACK THE JETSETTER | 3 | C | 0 | 0 |
| | | | JOYFUL TRIP | 3 | F | 0 | 0 |
| | | | KENNETH MACARTHUR | 3 | C | 0 | 0 |
| | | | KRATOS POWER | 3 | G | 0 | 0 |
| | | | LADY OF ARVENI | 3 | F | 0 | 0 |
| | | | LADY OF SHALOTT | 3 | F | 0 | 0 |
| | | | LOOK FOR A STAR | 3 | G | 0 | 0 |
| | | | MANDHUKAI | 3 | F | 0 | 0 |
| | | | POR UNA CABEZA (AR | 3 | G | 0 | 0 |
| | | | RAINCAP (AUS) | 3 | F | 0 | 0 |
| | | | RUSH OF GOLD | 3 | F | 0 | 0 |
| | | | SEEUNEXTTUESDAY | 3 | G | 0 | 0 |
| | | | SENSE OF OCCASION | 3 | F | 0 | 0 |
| | | | SHEENA BEAN | 3 | F | 0 | 0 |
| | | | TALLADEGA | 3 | F | 0 | 0 |
| | | | THEATRE NIGHT | 3 | F | 0 | 0 |
| | | | TRAVELIN MAN | 3 | C | 0 | 0 |
| | | | TRICKY BUSINESS | 3 | G | 0 | 0 |
| | | | UNNAMED (SHE'S ON | 3 | C | 0 | 0 |
| | | | WHATEVERITTAKES | 3 | C | 0 | 0 |
| | | | WY BELLS | 3 | C | 0 | 0 |
‹ Previous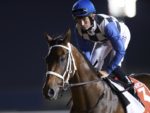 Meydan On The Dirt Today