On Friday we questioned the eligibility of the horse Divine Odyssey for today's Victory Moon Stakes as he had been suspended and had his starting stall certificate withdrawn by the Stipes last Saturday.
The report stated that he could not be represented for recertification up to and including 9 November.
After querying the situation with the NHRA, the Sporting Post's attention was drawn to an addendum to Thursday 7 November 2019 Stipes Report.
It reads:
After careful consideration of the circumstances which led to the scratching of Divine Odyssey, the Starter was interviewed by the Stewards.
It was established that this gelding had been above itself at the start and had made contact with the inside running rail prior to the loading process beginning. Divine Odyssey was subsequently scratched by the Course Veterinary for injuring itself and was suitable for reinstatement.
In light of this, the Stipendiary Board was of the opinion that it was not appropriate to withdraw Divine Odysseys starting stall certificate and suspend him. However Trainer van Vuuren was put on terms that he should take the necessary measures to improve Divine Odysseys racing manners prior to this gelding racing again.
So the decision was overruled.
‹ Previous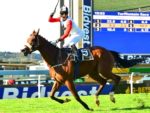 Divine Odyssey – Strange