KZN-based Mechanical Engineer Zane Kirsten gave Sunday's Emperors Palace Ready To Run Sale a thumbs-up and was extremely pleased what he secured with his budget.
He says the concept of a possible quick return was a winner and the quality of horse available was 'excellent'.
Zane, who has been an owner for ten years and races only with trainer David Niewenhuizen, spoke to the Sporting Post after the sale and was pleased with what he had bought.
"A nicely bred Stonehill Stud-bred Trippi half-sister to five winners out of a winning Fort Wood own sister to two graded horses. David liked her and we thought she moved really well. One never knows but we hope she is on the track by February. And the fillies filled the top six places in the Ready To Run Cup on Saturday. So we live in hope of something nice to look forward to come next November," he added.
Johan Loftus of Ndoro Stud, who bred the R1,3 million topseller, told the Sporting Post that after 41 years in the game – he started at Varsfontein in 1979 – he was 'still learning every day'.
"Just goes to show. We couldn't get a bid past R70 000 at the National Yearling Sale. In the interim he naturally matured and Paul Matchett, who prepped him, was thoroughly impressed with the way he moved and what he showed. He is a lovely specimen – I always say the foal you see at two days of age is the horse you will have," he confirmed.
He wished the purchaser, Empire International Bloodstock, who were the leading buyers, laying out R1565 000  for their 5 lots, plenty of fun with the exciting colt who will race under the Brett Crawford Racing banner.
International buyers at the sale included Ricky Maingard and Bernard Lincoln.
Other top local owners who bought well were Nick Jonsson (6 lots – R1470 000), the enthusiastic Suzette & Basie Viljoen  got their 5 lots for R840 000, while staunch patron Preggie Somasundram got  5
Summerhill's R3 755 000 and Far End Racing's R3,2 million kept the two top vendors very busy again, while Cape-based Hemel 'n Aarde sold 4 lots for a gross R935 000.
‹ Previous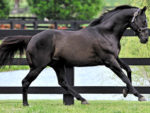 More Than Magic