Yet another South African jockey has had his contract terminated by a Mauritius trainer.

Jockey Eric Ngwane arrived in Mauritius just over six weeks ago to ride for trainer Amar Sewdyal for what is intended to be the rest of the season.
Sewdyal had been without a retained jockey since the departure of Carloz Gomez.
Ngwane rode two winners from 23 rides, and was dismissed by Sewdyal ahead of Sunday's racemeeting.
The Sporting Post has no details yet of what let to the parting of ways.
Ngwane travelled to the UK in 2016 for a refresher course, while still an apprentice. Eric Saziso Ngwane, who hails from Merewent, was coached by former champion jockey Garth Puller early in his career.
‹ Previous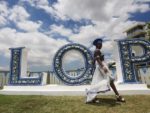 2020 L'Ormarins Queen's Plate Festival