Aldo Domeyer put the cherry on top of the start of what could be a memorable Cape Summer campaign when he rode a Gr2 feature double at Kenilworth on Saturday.
The Cape Champion rider of 2017/18, Domeyer's return home in late October after a flying start to his Hong Kong campaign was seen as a step back in some quarters.
But beyond the priority of his family responsibilities, the top man has returned back an even more polished product and he could be in for some serious silverware over the next three months. Hong Kong's loss is our gain.
After his low-flying finish to win the Gr2 Concorde Cup, Domeyer made it look a lot easier when steering Candice Bass-Robinson's progressive 4yo Russet Air to his first stakes success when he came on late in proceedings to win the R350 000 Gr2 Cape Merchants.
With a few rather jaded established stars in the field, the 1200m handicap always looked a difficult race to unravel.
But as is so often the case when things look like a 'field' race, the tote favourite (6-1 on the books) delivered – with Russet Air charging to a professional win in 70,67 secs, to give the Candice Bass-Robinson team a welcome fillip after a quiet start to the term.
Ready Steady Go stayed on at 20-1 for second, a well beaten 1,50 lengths behind the winner.
Pleasedtomeetyou, who had led the inside group of the stampede for a long way, stayed on for third, with Cabo Da Cruz running a nice race for fourth.
Glen Kotzen's stayer Pack Leader who was making a comeback after a 72 week absence and a tendon injury, caught the eye with an encouraging run – finishing seventh and 3,80 lengths off the winner. That despite making a respiratory noise in running.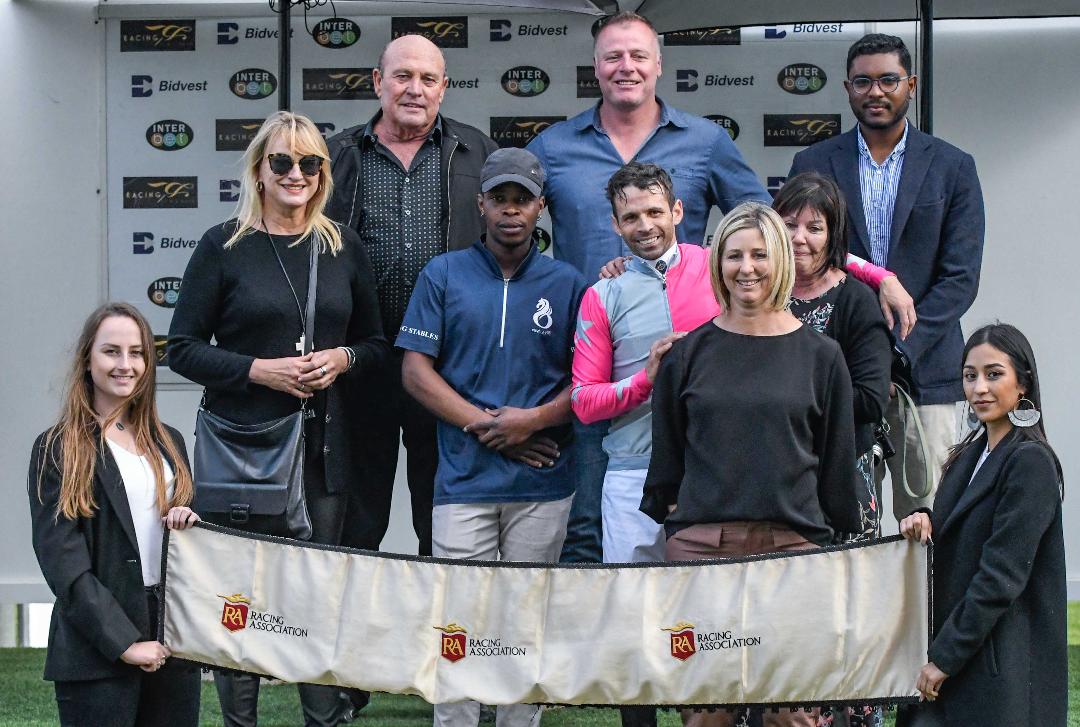 A stablemate to the winner, Machiavelli was withdrawn by the Vet at the start.
Russet Air was bred by Lammerskraal and is the product of two Equus Champions. He is by star sprinter What A Winter (Western Winter) out of Jallad's nine time winner and Oaks victress, Icy Air.
Raced in partnership by Mike Bass, Marsh Shirtliff and Brian and Kathy Finch, Russet Air has won 4 races with 5 places from 13 starts for stakes of R484 150.
This is the race that launched Equus Champion Sprinter Kasimir last season. There will be hopes in the Bass-Robinson yard that their gelding can go the same route.
Excerpt from Stipes report:
THE STARTER REPORTED:
a) BISHOP'S BOUNTY jumped awkwardly.
THE STIPENDIARY STEWARDS REPORTED:
a) Jockey R Fourie, the rider of BISHOP'S BOUNTY, reported that this gelding was not striding out. The veterinary surgeon was requested to examine this gelding.
b) Jockey G Cheyne, the rider of WHAT A WINNER, which was hanging out in the latter stages, reported that he felt something amiss with this gelding. The veterinary surgeon was requested to examine this
c) Jockey S Veale was charged with a contravention of Rule 58.10.2 (read with Guideline M on the use of   the crop) in that he used his crop more than 12 times during the race whilst riding the horse CABO DA           CRUZ (IRE). Jockey S Veale signed an admission of guilt and was fined R 1000,00.
d) RUSSET AIR, the winner, was selected for the taking of specimens for analysis. Trainer C Bass-Robinson was advised. (SC)
e) READY STEADY GO, the second placed horse, was selected for the taking of specimens for analysis. Trainer M Rix was advised. (CvA)
 JOCKEY AND/OR EQUIPMENT CHANGES:
 a) K de Melo rode MACHIAVELLI (declared 08.15 on 20191122)
b) *S Mbhele rode FRANK LLOYD WRIGHT (declared 16.01 on 20191119)
c) S Veale rode CABO DA CRUZ (IRE) (declared 07.53 on 20191119)
d) SERGEANT HARDY raced without surgical shoes and with alumites (declared 15.19 on 20191122)
e) BWANA raced with cheek pieces (declared 06.22 on 20191123)
f) BWANA raced without earmuffs (declared 08.35 on 20191123)
g) L Mxothwa rode + 0.5kg ( 52.8kg)
THE VETERINARY SURGEON REPORTED:
a) PACK LEADER – abnormal respiratory noise
b) SERGEANT HARDY – abnormal respiratory noise
c) BWANA – abnormal respiratory noise
d) BISHOP'S BOUNTY – returned not striding out
e) WHAT A WINNER – nothing obvious detected
_________
Gr2 Cape Merchants (SAf-Gr2)
Kenilworth, South Africa, November 23, R350k, 1200m, turf, good, 1.10.67
1 – RUSSET AIR (SAF), 57.0, b g 4, What A Winter (SAF) – Icy Air (SAF) by Jallad (USA). Owner Messrs M W Bass, B P Finch & N M Shirtliff & Mrs K Finch; Breeder Lammerskraal Stud; trainer C Bass-Robinson; jockey A Domeyer
2 – Ready Steady Go (SAF), 55.5, b g 5, Gimmethegreenlight (AUS) – Teresina (SAF) by Jet Master (SAF)
3 – Pleasedtomeetyou (SAF), 59.0, b g 4, Querari (GER) – Plaisir De Fete (SAF) by Fort Wood (USA)
Margins: 1.50, 0.40, 0.40
‹ Previous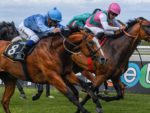 Gem Of A Ride, Aldo!