The Fred Crabbia-owned 2017 Cape Winter Series star African Night Sky, now in the care of Dean Kannemeyer, is likely to take his first step to a tilt at the Sun Met in the R350 000 Gr2 Cape Merchants at Kenilworth on 23 November.
The son of Dynasty has not seen action since running 5th and 7,25 lengths behind Do It Again as favourite to win the 2018 Vodacom Durban July.
Off a slow early pace, he fought his rider Grant van Niekerk and was taken up to lead. Van Niekerk was widely criticised for the ride.
African Night Sky transferred  from the Snaiths to Kannemeyer and has been given a long break after an injury.
"He has had a gallop and we will probably start him over the 1200m with an eye on the Sun Met on 1 February," Dean Kannemeyer told the Sporting Post.
African Night Sky, who has won from 1200m to 2400m, is one of 27 entries for the Gr2 Cape Merchants.
He became the first horse after Pocket Power to win the Cape Winter Series Triple Crown and is held in high regard – even returning as a 6yo.
A notable non appearance amongst the Merchants first entries are Justin Snaith's Equus Champion Sprinter Kasimir, who won the race last year.
Kannemeyer's smart 3yo African Warrior, who ran a cracker in the Matchem recently, has been priced up as a 4-1 favourite by Hollywoodbets in their ante-post market for the 1200m handicap.
First supplementary entries close at 11h00 on Friday 8 November, with final supps due by 11h00 on Wednesday 13 November.
Declarations are due by 11h00 on Thursday 14 November.
0
Rocket Countdown
(5G)
0
112
A
Candice Bass-Robinson
0
Russet Air
(4G)
0
108
A
Candice Bass-Robinson
0
Machiavelli
(4G)
0
104
A
Candice Bass-Robinson
0
Three Two Charlie
(3G)
0
102
A
Candice Bass-Robinson
0
What A Winner
(5G)
0
100
A
Candice Bass-Robinson
0
Dragon Power
(4G)
0
89
A
Candice Bass-Robinson
5
African Night Sky
(6G)
62
122
A
Dean Kannemeyer
1
Temple Grafin
(4F)
59.5
117
A
Glen Kotzen
21
Pack Leader
(5G)
58
114
A
Glen Kotzen
15
Sir Frenchie (AUS)
(5G)
57.5
113
A
Yvette Bremner
11
Pleasedtomeetyou
(4G)
57
112
A
Andre Nel
8
Sergeant Hardy

Accepted

(6G)
56.5
111
Justin Snaith
16
Bishop's Bounty

Accepted

(6G)
54.5
107
A
Justin Snaith
9
New Caledonia
(7G)
54.5
107
A
Geoff Woodruff
14
Dynamic Diana
(5M)
54
106
A
Justin Snaith
2
Percival
(7G)
54
106
A
Andre Nel
6
Sugar Girl
(5M)
54
106
A
Dean Kannemeyer
18
African Warrior
(3G)
53.5
115
A
Dean Kannemeyer
13
Ready Steady Go
(5G)
53.5
105
A
HWJ Crawford/M Rix
20
Billy Silver
(5G)
52.5
103
A
Adam Marcus
10
Crown Towers (AUS)
(4G)
52.5
103
A M
Justin Snaith
12
Elusive Trader
(4G)
52
102
A
Greg Ennion
19
Agent Of Fortune
(4G)
48.5
95
AT
Vaughan Marshall
4
Frank Lloyd Wright
(4G)
48.5
95
A
Justin Snaith
7
Photocopy
(5G)
48.5
95
A
Paul Reeves
17
Cabo Da Cruz (IRE)
(5G)
48
94
A
Dennis Drier
3
Power Grid
(6G)
46.5
91
AT
Andries Steyn
(27)
‹ Previous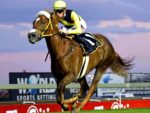 Barahin Tops Log