Trainer Doug Watson made history at Meydan Racecourse on Thursday night, becoming the first trainer to win six races and sweep an entire card at the renowned Dubai venue.
After going 1-for-10 on opening night at Meydan on Oct. 24, his Red Stables roared back, firing with everything from a 2-year-old first-time starter to an established 7-year-old handicapper, while boasting the breadth of its clientele with five victorious owners. The card was sponsored by Meydan pillar partner Gulf News and Watson surely gave them a proper headline.
"We looked at it on paper on Thursday morning and we had a couple horses we knew were going to run really well," Watson said. "It's just an unbelievable feeling. We have such a great team at home and a lot of these horses have been training well. The races just suited us and the horses have been training well. It's a sweet feeling and it's more for the yard and (jockey) Pat (Dobbs) did an amazing job, too."
Dobbs was aboard five of the winners, while Dane O'Neill piloted one.
Watson was responsible for half of the eight runners in the Gulf News handicap over 2000m, the evening's feature, but looked likely to have to settle for minor honours when Royston Ffrench and Walk in the Sun shot clear at halfway and entered the lane full of run.
Meanwhile, Dobbs, again riding for Al Basti, was happy to bide his time in last by 25 lengths before asking 7-year-old Medaglia d'Oro gelding Tried and True to live up to his name. He did so in deliberate style, denying a walk in the park for Walk in the Sun.
Watson said: "Fair play to Pat, as he has let this horse find his stride and not panicked when a long way out of his ground and timed the challenge perfectly. The horses have been working nicely all along and running well enough, but everything so far this evening has gone to plan."
The meeting concluded the InsideOut handicap over 1400m and the return of The Cool Silk Partnership's promising 3-year-old Midnight Sands. Breaking well from the three-hole, the son of Speightstown vied for the lead with Gervais before putting that foe away emphatically. Mazeed rallied well to take second from Gervais. Dobbs was once again up, landing a five-timer on the evening.
The sextet of successes ups Watson's seasonal total to eight and puts him squarely in the lead for an eighth UAE championship. He is three ahead of Satish Seemar and five superior to defending champion Ernst Oertel. Dobbs also jumps into the lead in his division with six victories over the five won thus far by Connor Beasley.
Watson is a native of Centerville, Ohio, USA, and began his career at Chicago's Arlington Park cleaning stalls and grooming horses.
A 26-year resident of Dubai, he was a long-time assistant to Kiaran McLaughlin before said conditioner relocated back to the USA, wherein Watson took the reins of downtown Dubai's Red Stables in 2004. In just his third season as head trainer, he won the first of seven championships.
His major feats include finishing 1-2-3 in the 2016 Godolphin Mile (G2)—led by One Man Band—on Dubai World Cup night and then winning the same race one year later with Second Summer. He currently has 585 wins and trains a yard topped by multiple Group stakes winners Muntazah and Drafted.
The next Racing at Meydan is scheduled for Thursday, November 21,
‹ Previous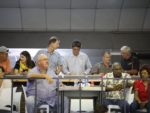 Something For Everybody!