Notice is hereby given that the One Hundred and Thirty Eighth Annual General Meeting of Members will be held at the offices of The National Horseracing Authority of Southern Africa, Turffontein Racecourse, Turf Club Street, Turffontein, on Wednesday, 15 January 2020, at 12h00.
Proposals by Members for inclusion in the Agenda for the Annual General Meeting are to please reach us by 4 December 2019.
Should you have any queries, please feel free to e-mail at [email protected]
‹ Previous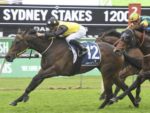 Consider Time Thief's Six Today!