The Lammerskraal Stud-bred Russet Air's first stakes success in Saturday's Gr2 Cape Merchants is something of a fairytale story. He was not expected to make it to the racecourse.
Lammerskraal's Sally Bruss recounted how the handsome youngster was probably destined to be consigned to a life in the paddock until a visit from owner Brian Finch and Mark and Candice Bass.
"They were looking around and Brian, who coincidentally owned the subsequent exported Gr2 winning Go Deputy half-brother Icy Trail, was taken by the handsome specimen. I told them – in fact they could see – Russet Air had such bad legs, including a badly off-set knee, that he would never be allowed near a  sales ring. They said that they liked him and would take their chances – and we did the deal then and there. I think we all felt a lot better when Mike Bass liked what he saw in their yard and even suggested that they aim him at the Diadem!"
Sally went on to say that according to reports from the yard, Russet Air has never had any soundness issues and she feels his standing up to racing was a real credit to the Bass-Robinson team and to the patience of the 4yo's owners.
"He hasn't been over-raced. Russet Air is a big-boned horse and he has big feet. I think that structure balances the negative of the off-set knee and if you watch the head-on of the race, you will see just how pronounced his action is. If this is what he is achieving with this 'disability' I can just imagine how good he would have been without it!"she added.
Sally said that Russet Air's Equus Champion dam Icy Air, a nine-time winner, had been a dream broodmare.
"She produces tough and talented horses – six stakes winners so far – and the amazing thing is she hasn't missed producing a foal in 14 seasons. She is 20 now and going strong. She has a Visionaire colt at foot. The Hollywood Syndicate have leased her lovely 2yo daughter from us called Gail Force – she is by Soft Falling Rain and Alyson Wright was impressed with her barrier trial last week. Unsurprisingly, as is the family way, she can run a bit!"
‹ Previous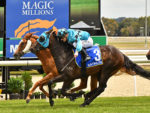 Summer Euphoria!