The Summer Cup panel discussion aired live on Tellytrack on Wednesday evening at 19h15 is due to be broadcast again on Thursday and Friday evening on the racing channel.
Tellytrack CEO Colleen Goodman kindly confirmed the broadcast times to the Sporting Post.
Mike de Kock, who holds a strong hand, was at his jovial best on the panel, which was chaired by the smooth as silk Clyde Basel and included Sean Tarry and Gavin van Zyl, together with jockey Gavin Lerena and brand new bloodstock agent, Gabi Soma.
De Kock's quote of the week included a reference to the honour and privilege of having three horses rated 131 and above in his yard.
"That's fantastic – but I think it actually means that somebody has the lost plot somewhere,' he chirped.
De Kock was, of course, referring to Soqrat (133), Barahin (131) and Hawwaam (131).
Have you read the latest SP best ratings, published weekly and on page 26 in today's Digest?
It suggests that the classic 3yo's have some way to go to catch up on the impressive Hawwaam.
Read more by clicking on the image below

The Summer Cup panel discussion, a worthwhile watch, is broadcast this evening at 21h30 and at 22h00 tomorrow on Friday evening.
Otherwise get it on www.tellytrack.com
‹ Previous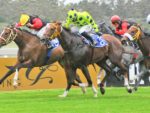 Alexia's Tale Of A Cat!