While Phumelela have failed to respond to a Sporting Post request for clarity, a Grooms protest has threatened to disrupt the Turffontein Summer Cup day meeting today.
A similar incident occurred at last year's meeting when the Grooms invaded the  track in the home straight.
It appears the protest is about wage demands and the Grooms, who apparently were generally peaceful, were armed with pangas and spades.
Reports of police firing runner bullets could not be verified.
Social media activity from Turffontein said 'that  it is about to go down' at just after 09h00.
The first race was due off at 12h15 but has been delayed indefinitely.
‹ Previous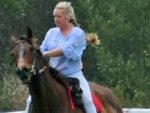 How Many Trainers Would Be This Brave?