While Lyle Hewitson was the youngest jockey – at age 21 – to win the modern era Summer Cup on Tilbury Fort last year, 22 year old Durban-born Cole Dicken, who partners the 5yo mare Insignis for Geoff Woodruff today, is not far behind.
Consigned to a life of being the tool case carrier in his Dad's electrical business, it was a job at the Delpech home in Durban to install a chandelier that changed Cole's life forever. Candice Delpech suggested he become a jockey. The rest is history.
Cole, or 'Frost' as he is known to his weighing room colleagues, rode his first winner at the Vaal on 6 August on Princess Nicole. Not bad going seen that it was just 20 months after touching a horse for the first time when joining the SA Jockey Academy in January 2018.
Cole, who now claims 2,5kgs – he can't use his discount in the Summer Cup – has come on leaps and bounds and currently boasts 22 winners – a remarkable progression in double quick time!
He is pacing it with Denis Schwarz and Luke Ferraris at the top of the national apprentice log.
This will be Cole's first Gr1 ride and he will jump from gate 20.
That's a lonely start to his Gr1 career, but he says he is ready for it and honoured to be given the opportunity by a top trainer.
‹ Previous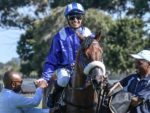 Soqrat Is Summer Class