No good deed goes unpunished. Just ask Fairview trainer Yvette Bremner and the super rigid  local Stipendiary team who failed to dish out a Black Friday discount on a hefty fine incurred for a good deed.
The story goes something like this.
Just prior to the Fairview fifth on Friday, Yvette's Calla Lily, one of a quartet of her runners in the Glendore Sprint, dislodged Collen Storey and bolted.
The lead pony, a well-known former Gr1 winner called Villandry, who was assigned to accompany Calla Lily to the start, also dislodged his rider as he also wanted to play the 'let's race again' game.
This is where Black Friday goes wrong for Yvette,
Being an accomplished rider, the top trainer, seeing the dangers and risks of losse horses and doing her utmost to ensure punters and her owners weren't disappointed, handed her mobile phone to Hedley McGrath, clipped her hair up and jumped aboard the lead pony in an attempt to assist Calla Lily back to the start.
It was a brave act of initiative that the Stipes didn't find funny or helpful.
The official Stipes report says:
Trainer Y Bremner mounted the lead pony without a body protector and a skull cap in an attempt to take Calla Lily back to the start when this gelding was already scratched. This caused a delay to the start.
Trainer Y Bremner signed an admission of guilt for a contravention of Rules 58.11 and 58.9.2 in that as a licensed Trainer whilst mounted on a lead pony failed to ensure that she had both a body protector and a serviceable skull cap on, when attempting to take CALLA LILY to the start. A penalty of a R3000 fine was imposed.
Calla Lily's part owner Hedley McGrath said that they thought that the NHRA would at least have given them a 50% Black Friday discount on the fine!
‹ Previous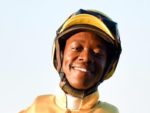 Young King Cole