The Dispersal Sale of Aegean Prince Racing will be held under the auspices of Bloodstock South Africa after the Grand Heritage raceday  at the Vaal on Saturday 7 December.
Prospective buyers are urged to make arrangements to view the lots prior to the sale.

The sale will be conducted under the standard Bloodstock South Africa Conditions of Sale.
Enquiries regarding the horses belonging to Aegean Prince Racing may be made to Grant Maroun on mobile 082 802 5017.
‹ Previous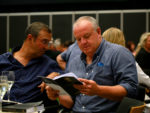 Premier Catalogue Online