It was a one-horse race in both the Jockeys' and Trainers' competitions in the Attitude Hotels International Jockeys Weekend, with Manöel Nunes and Preetam Daby coming out on top, after having led all the way through.
Manöel Nunes was crowned champion jockey with 52 points. He won three races today, including the feature race on board Haylor.
England's Jason Watson finished in 2nd with 38 points, while native Nooresh Juglall finished on the final podium step with 31 points.

Winless on Saturday, Derreck David got his sole win in Sunday's meeting on Patrol Officer, while Dinesh Sooful was the sole reserve jockey to have won a race- that  with Wordbuster in the 5th race on Sunday.
Final Jockeys' Standings
Manöel Nunes (Brazil) 52 points
Jason Watson (England) 38 points
Nooresh Juglall (Mauritius) 31 points
Jason Collett (New Zealand) 23 points
Manuel Martinez (Chile) 21 points
Surendar Srinath (India) 20 points
Jameer Allyhosain (Mauritius) 18 points
Dinesh Sooful (Mauritius) 15 points
Derreck David (South Africa) 13 points
John Powell (Singapore) 11 points
Aurelien Lemaitre (France)/Nishal Teeha (Mauritius) 10 points
Randall Simons (South Africa) 5 points
Swapneel Rama (Mauritius) 2 points
Thanks to his Sunday hat-trick, Preetam Daby ran away with it in the Trainers' standings. He won with 57 points, 24 points ahead of Gilbert Rousset, while Shirish Narang completed the podium with 32 points.

Amar Sewdyal, champion trainer in last year's competition, finished 4th with 26 points, while Simon Jones was the only trainer to score points in just one race, as he saddled Haylor to victory in the feature race.
Final Trainers' Standings
Preetam Daby 57 points
Gilbert Rousset 33 points
Shirish Narang 32 points
Amar Sewdyal 26 points
Patrick Merven 21 points
Shyam Hurchund 20 points
Ramapatee Gujadhur/Chitranjan Ramdin 18 points
Vincent Allet 15 points
Ricky Maingard 11 points
Simon Jones 9 points
Jean-Michel Henry 7 points
Rameshwar Gujadhur 6 points
Praten Nagadoo 4 points
Alain Perdrau 2 points
While this weekend would traditionally signal the end of the season, the MTC will host one further meet on Saturday 7 December.
‹ Previous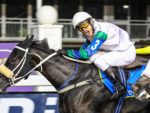 Pick 6 Winners Reap The Benefits