Mike de Kock's power duo of Saturday's Summer Cup runner-up Soqrat and superstar Hawaam are set to launch an attack on the L'Ormarins Queen's Plate-Sun Met double before being exported to Australia.
Hawwaam, who was super impressive in a return run over 1200m at the Vaal on 14 November is carded to run at Turffontein on Thursday in a mile Pinnacle Stakes – a six horse field which he looks to have on a plate.
Soqrat was left with a lot of ground to make up in a slight deviation from his usual running style in Saturday's Summer Cup and was just under a half length in arrears at the line behind shock winner, Zillzaal.
Hawwaam is an entry in the Gr2 Green Point Stakes at Kenilworth on Saturday 14 December but is unlikely to run – unless Thursday's meeting is rained out.
The bang in-form trainer Mike de Kock, who had a slightly frustrating Summer Cup day by his high standards but leads the SA Championship log, told the Sporting Post on Sunday that both Haawwaam and Soqrat  would travel to the Cape by 10 December, if there was no further outbreak of AHS.
"Both my horses are on track for the L'Ormarins Queen's Plate and Sun Met and then off to the UK en route to Australia. That is subject to the protocols being lifted and I'm confident of that happening," said the multiple champion trainer.
He announced in August that he and son Mathew would be setting up a satellite yard at the Cranbourne Racing Centre outside of Melbourne, Victoria.
He said at the time that they were doing this as a pre-emptive move for our exports protocols opening up and that they have been doing things the other way around, focusing on importing horses from Australia.
"Soon we'll be exporting from South Africa at an exchange rate of roughly 10 rand to the Australian dollar, which is a great opportunity and makes good business sense. We will also be supporting the Australian market as we have been doing."
Hawwaam and Soqrat are two of the top five rated horses in South Africa currently.
The Green Point Stakes declares on Thursday, 5 December.
First entries for the Sun Met are due on Wednesday, 4 December.
Hawwam runs in the fifth at Turffontein on Thursday:
 R130 000 1600m 15:10 Ref-410
1st R75400, 2nd R26000, 3rd R13000, 4th R6500, 5th R2600, 6th R1300, 7th R1300, 8th R1300, 9th R1300, 10th R1300
BETTING WORLD – 087 741 2777 PINNACLE STAKES
Open
WFA: 3yrs-6kgs 4yrs-0kgs
1 5 Hawwaam 62 131 AM A Marcus Mike de Kock
2 1 Hero's Honour 58 115 A *D Schwarz Gary Alexander
3 4 Tierra Del Fuego 56 108 A R Danielson Sean Tarry
4 3 Lake Kinneret 54 106 A P Strydom St John Gray
5 6 Gift For The Gap 52 100 A S Khumalo Tyrone Zackey
6 2 Shukamisa 52 97 BA W Kennedy Paul Peter
Same Trainer – Not Coupled on Tote
(-)
‹ Previous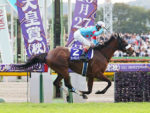 Japanese Champ Out