The Stronach Group, owners of the Pegasus World Cup Championship Invitational Series, have announced a new era for the event before its 25 January renewal at Gulfstream Park.
Owners of horses age 4 and up from North America and beyond will be invited to participate in the series, which aims to attract the world's best horses and riders.
All entry fees for the 2020 Pegasus World Cup Invitational and Pegasus World Cup Turf Invitational will be waived, a change of course from previous years in which slots were purchased by owners for their horses.
Under a new medication-free format, the Gr1 Pegasus World Cup Invitational will be run on the dirt at 1800m and will offer a $3 million total purse (from $9 million) with 2% of the purse donated to Thoroughbred aftercare.
The Gr1 Pegasus World Cup Turf Invitational will be run at 1900m and will offer a $1 million purse (from $6 million) with 2% of that purse also donated to Thoroughbred Aftercare. The $4 million total purse contribution is entirely provided by The Stronach Group.
"We are investing in the future of our sport by creating new opportunities for horsemen and horses to run without medication," said Belinda Stronach, chairman and president of The Stronach Group. "The Pegasus World Cup Invitational Series has always been about innovation. The new and exciting medication-free format, along with giving back to horse care, showcases the leadership our industry is taking together to evolve beyond past achievements to create a more modern, sustainable and safer sport."
Gary West, the owner of multiple US Gr1 winner Maximum Security has announced that rather than targeting the Gr1 Pegasus World Cup, he will instead consider a tilt at the inaugural running of the $20 million Saudi Cup in Saudi Arabia in February. This comes as a response to the official announcement of a significant prize money cut to The Pegasus. "I wasn't thinking about the Saudi Cup, but why should I run for $3 million when I can run for $20 million four weeks later?" West told bloodhorse.com.
‹ Previous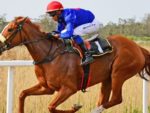 Meryl The Banker Today