The Twenty First Annual General Meeting of The Racing Association NPC (which has been delayed) will be taking place at Kenilworth Racecourse on Monday 10 February 2020 at 18h00.
A video link will be arranged simultaneously at Turffontein Racecourse.
The formal notice of this meeting giving details of items on the agenda, as well as a proxy form for use by members not attending the meeting and the Annual Report for the year ended 31 July 2019 are available on the links below.
‹ Previous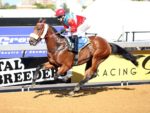 Newsflash: Scottsville Meeting Moves