Allegations of threatening and intimidating behaviour on the part of senior racing officials at a meeting attended by trainers in the course of Saturday's Summer Cup meeting are yet to be officially verified.
South African racing gained negative press in the UK on Monday where the Racing Post reported that rubber bullets were fired by police at demonstrating stable staff at Johannesburg's biggest raceday of the year.
The article states that the grooms used the occasion to stage a protest for better wages and it soon turned ugly.
The police were called in, and once bullets were fired the protestors quickly dispersed, but the first race had to be put back two hours.The protest served as a stark reminder that the dissatisfaction which resulted in a grooms' strike in June last year has not been sorted out to the satisfaction of Johannesburg-based stable staff.
The Sporting Post has received reports of alleged unacceptable behaviour on the part of top racing officials that includes foul and threatening language, and a general lack of courtesy and decency.
"It is outrageous that stakeholders are told to shut the f*@$ up and take it or leave it. To be addressed in this arrogant and rude manner defies high school manners," said one source who confirmed that action and an inquiry had to follow.
An independent informant confirmed the incident which is said to have clouded a tense meeting following the protest action.
And once again the lack of proactive action on the part of racing authorities was condemned as bordering on negligence.
The meeting that took place was not recorded in the official Stipes report for 30 November.
The Sporting Post would prefer to hear both sides of what happened but has had no response or acknowledgement of questions addressed in this regard to the NHRA, RA and Phumelela.
‹ Previous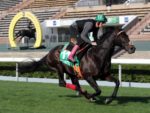 Unfinished Business For UK Trainer