Improved weather with wind indicates that it should be all systems go for the Vaal meeting today.
The weather was good yesterday and accompanied by wind.
At 15h10 yesterday, the pen reading was 27 with official going published as 'soft'.
This will be music to the ears of punters who lost Turffontein last Thursday, the Vaal on Saturday, the  last few races on Monday's Flamingo Park card, as well as Vaal and Hollywoodbets Greyville over the past two days.

The Vaal false rail is set at zero on the back straight and bend, with a 3m spur at the 600m mark. The false rails will be zero from the 1600m outside rail to the pull-up area.
The eight-race meeting starts at 13h05.
See the Hollywoodbets betting here
The Sporting Post's best bet of the afternoon comes up in the fourth where Gr1 winner Chimichuri Run can register his fifth career success.
First-timers/ Rested comments
1 13:05 – ITSARUSH.CO.ZA WELCOMES YOU WORKRIDERS MAIDEN PLATE
5 SACRED DAWN M/A Azzie: No comment given
3 14:15 – TAB PAYS THE FULL DIVIDEND, NO LIMITS MAIDEN PLATE (F & M)
6 BITTER ORANGE C Binda: Will need the run
7 CAST THE DICE M N Houdalakis: Will need further
10 FIRE FLOWER M F De Kock: No comment given
12 JANE'S DREAMWORLD D N Stenger: Nice type, may be green
15 REGARDS TO ALL G V Woodruff: Has had a grass gallop and should run well
16 WONDERFUL ROCK E Verdonese: Will be green
4 14:55 – BETTING WORLD – 087 741 2777 PINNACLE STAKES
7 BASADI FAITH P F Matchett: Working Well
9 CAPTAIN COURTEOUS B D Botes: Will need the run
11 SILVER MASTER B D Botes: Will need the run
6 16:05 – PLAY SOCCER 6, 10 and 13 MR 88 HANDICAP
13 PALACE ASSEMBLY M/A Azzie: No comment given
17 DON CHRISTO S W Kenny: No comment given
7 16:40 – RACING ASSOCIATION 3-YEAR-OLD FILLIES 99 HANDICAP
2 LADY DEFIANCE (AUS) M F De Kock: No comment given
7 ZEPHIRA RAIN F P Habib: Will need the run
8 17:15 – NEXT VAAL RACEMEETING THURSDAY 19 DECEMBER MR 80 HANDICAP
2 PAGODA G V Woodruff: Has had a grass gallop, but will need this run so I do not expect much
9 THERAVADA G V Woodruff: Has had a grass gallop and should run well
Comments by Phumelela Publishing
‹ Previous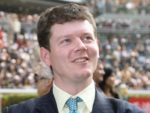 UK Apprentices – Money Talks